Go for Liftoff!: How to Train Like an Astronaut (Dr. Dave -- Astronaut) (Hardcover)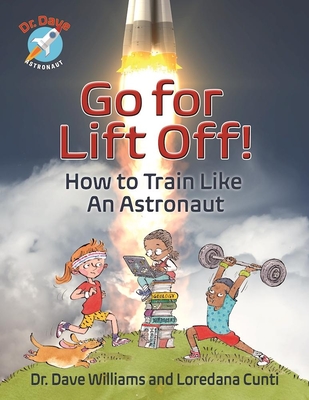 $22.95
Email or call for price.
Description
---
How many kids aspire to become an astronaut one day? Wouldn't it be great to float in space and do neat experiments? But before all the "fun" begins, it takes an incredible amount of hard work to prepare oneself for the ride of a lifetime. Before they are sent to space, astronauts have to go through spacecraft systems training, wilderness training, underwater training, roller coaster-like flight training, and teamwork training, not to mention science, technology, medical, engineering, and math training. Training for flight also depends on being prepared physically, mentally, and emotionally, having the right attitude and learning to deal with problems calmly. Dr. Dave speaks from experience when he describes what it's like to live underwater for weeks at a time, experience free-floating in micro gravity in the "Vomit Comet," or catch and eat bugs during wilderness training. With its first-hand photos and amusing illustrations, Go for Lift Off is the go-to book for aspiring astronauts.

About the Author
---
Co-Author Dr. Dave Williams is a Canadian astronaut who participated in spaceflights aboard two NASA space shuttles; he also became an aquanaut through undersea research in the world's only underwater research laboratory. Dr. Williams currently works in healthcare and is the CEO of a hospital near Toronto. Co-Author Loredana Cunti is a specialist in children's entertainment, a former Senior Vice President of Children's Programming at Universal Pictures and a Cordon Bleu Pastry Chef. Loredana has developed a number of book-based characters for television including Geronimo Stilton, Pink Panther, and most recently George Green by Stephen and Lucy Hawking. Theo Krynauw is a freelance illustrator whose work includes hand drawn illustration for editorial, textbook and children's publications.