Enough (Paperback)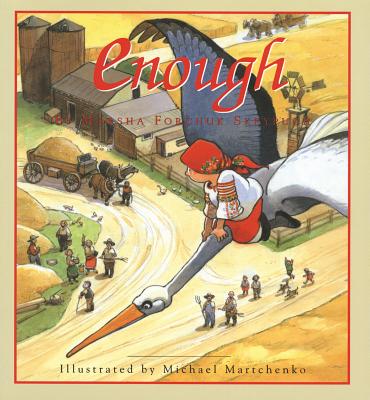 $9.95
In Our Warehouse - Expected arrival in 2-5 days
Description
---
This heart-warming Ukrainian folktale, set during the Great Famine of the 1930s, tells of a young girl's attempts to save her village from starvation.
When soldiers take the village's wheat, Marusia hides just enough to survive. She and her father share with the other villagers over the winter, then plant the few remaining grains in the spring. A gigantic stalk of magical wheat grows attracting the attention of an equally large and magical stork. The stork flies with Marusia on a magical journey to the prairies, where farmers give Marusia enough wheat for her village.
Word of the magical journey reaches a greedy officer, who tricks the stork into retracing the magical journey. But the officer does not understand the meaning of "enough" and his greed leads to his doom. Back in the village, Marusia and her father know they must devise a clever plan to protect their wheat from other greedy soldiers . . . and perhaps from the dictator himself
About the Author
---
Marsha Forchuk Skrypuch is the author of many books for children and young adults, including Call Me Aram, Aram's Choice, Silver Threads, Enough, The Hunger, and Hope's War. Her novel about the Armenian genocide, Nobody's Child, was nominated for the Red Maple Award, the Alberta Rocky Mountain Book Award, and the B.C. Stellar Award; it was also listed by Resource Links as a "Best Book." An English scholar and former librarian, Marsha lives in Brantford, Ontario, with her husband and son.