Magical History Tour Vol. 1: The Great Pyramid: The Great Pyramid (Hardcover)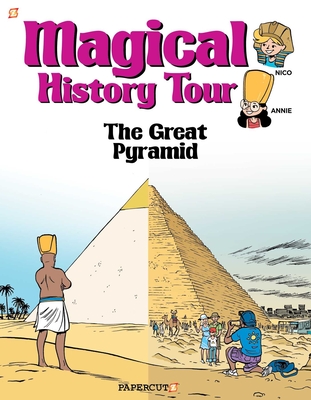 Other Books in Series
This is book number 1 in the Magical History Tour series.
Description
---
New multi-volume series both fun and educational, in slim pocket sized hardcovers!
Current day kids Annie and Nico travel back to—ancient Egypt. That's about 4,500 years ago, when the world's largest pyramid was built, The Great Pyramid of Giza. It's also called the Pyramid of Cheops because it was built for the Pharaoh Cheops, who wanted to be buried in it when he died. That's right—pyramids are giant tombs! It was the first of seven buildings known as The Seven Ancient Wonders of the World—and it's the only one still standing! But it still has plenty of secrets waiting to be uncovered …
About the Author
---
Fabrice Erre, born in 1973 in France, is an author and teacher of comics, as well as an accomplished historian. Through his comics, he seeks above all to parody human behavior, teasing out our little personal weaknesses and our vulnerability to manipulation by the masses. Most recently, putting his history background to good use, Erre has teamed up with artist Sylvain Savoia to create the series THE THREAD OF HISTORY, set on bringing the past to vivid life for younger readers.

Born in 1969, Sylvain Savoia grew up in France, and discovered comicbooks at a young age. In 1989, he registered at the Saint-Luc art school in Brussels. Savoia enjoys a prolific international career illustrating comics.
Praise For…
---
"This efficient and fast-moving tour of the pyramid of Cheops is packed with great information. An ­excellent start to an ­entertaining nonfiction ­series."
— School Library Journal

"Comics is a terrific format for history education. Inserting our kid narrators into historical images and imaginings makes all the detail and facts more interesting. Overall, it's a quick, packed, whirlwind tour through the subject. Additionally, background pages include a map, a few facts on key historical figures, and a timeline"
— Good Comics For Kids Blog

"A fascinating nonfiction comic that will enthrall young readers"
— Booklist