Goodbye Earl: A Revenge Novel (Hardcover)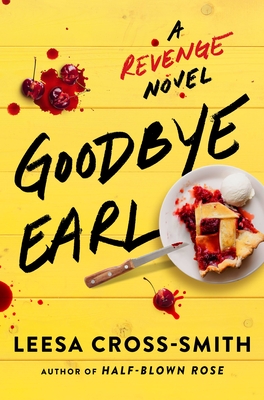 $29.00

In Our Warehouse - Expected arrival in 2-5 days
Description
---
Four women take fate into their own hands in this big-hearted story of friendship, resilience, and revenge on monstrous men, from the award-winning author of Half-Blown Rose. 

Taking inspiration from the infamous, empowering song, Goodbye Earl follows four best friends through two unforgettable summers, fifteen years apart.
 
In 2004, Rosemarie, Ada, Caroline, and Kasey are in their final days of high school and on the precipice of all the things teenagers look forward to when anything in life seems possible . . . from falling in love, to finding their dream jobs, to becoming who they were meant to be.
 
In 2019, Kasey has returned to her small Southern hometown of Goldie for the first time since high school—and she still hasn't told even her closest friends the truth of what really happened that summer after graduation, or what made her leave so abruptly without looking back. Now reunited with her friends in Goldie for a wedding, she's determined to focus on the simple joy of being together again. But when she notices troubling signs that one of them might be in danger, she is catapulted back to that fateful summer. This time, Kasey refuses to let the worst moments of her past define her; this time, she knows how to protect those she loves at all costs.
 
Uplifting, sharp-edged, and unapologetic, Goodbye Earl is a funeral for all the "Earls" out there—the abusive men who think they can get away with anything, but are wrong—and a celebration of enduring sisterhood.
About the Author
---
Leesa Cross-Smith is a homemaker and the author of Every Kiss A War, Whiskey & Ribbons, So We Can Glow, This Close to Okay, and Half-Blown Rose. She lives in Kentucky with her husband and their two teenagers. Find more at LeesaCrossSmith.com.
Praise For…
---
"I can't help devouring Leesa Cross-Smith's prose like it's candy, with turns of phrase so unexpected and delightful, so uniquely her own, that I just want to chew and chew them. Filled with charming characters and beautiful details, Goodbye Earl makes murder as delicious as cherry pie."—Rufi Thorpe, author of The Knockout Queen and The Girls From Corona Del Mar

"Ideal summer reading . . . Cross-Smith's incredible, easy voice will make your skin crawl one moment and give you goosebumps the next, then smooth out your frazzled emotions with a contented, sunshiny vibe two pages later."—Associated Press

"Deliciously devilish."—Good Housekeeping

"Channeling the spirit of the Dixie Chicks song of the same name, Goodbye Earl . . . is an ode to the sanctuary that is female friendship and all that it endures, and all the ways it makes your life better and your heart bigger."—Shondaland

"Readers of relationship fiction who want the lighter side of dark dealings will
find much to enjoy."—Booklist

"A top pick for anyone who loved "Bad Sisters" on Apple TV+."—Parade.com

"A big-hearted novel of friendship, small-town solidarity and, as listeners of The Chicks will no doubt intuit, revenge . . . the grit is enough to shock you, and the heart is enough to warm you."—BookReporter.com

"[A] rollicking summer beach read . . . delivers its sweetest message of revenge."—Atlanta Journal-Constitution

"A celebration of enduring sisterhood."—BrooklynDigest.com

PRAISE FOR LEESA CROSS-SMITH
 "Leesa Cross-Smith's richly vivid prose pulls you in and transports you to Paris. Sharp-edged and sexy, Half-Blown Rose is an utterly intoxicating story of love, betrayal, and loyalty." —Taylor Jenkins Reid, New York Times bestselling author of Malibu Rising

"With Half-Blown Rose, Leesa Cross-Smith has given us a brilliant, sexy, funny masterpiece. Reading her stunning prose is a full-blown experience. Within the deeply intimate worlds she conjures, she captures love, lust, and longing with such emotional intricacy and verve, I'm fairly certain I read this entire book with my hand pressed against my heart."
 —Deesha Philyaw, author of National Book Award 2020 finalist The Secret Lives of Church Ladies

"Leesa Cross-Smith is a consummate storyteller."—Roxane Gay, New York Times bestselling author

"By far the most exhilarating and sexy American-in-Paris story I've ever read. Leesa Cross-Smith's Half-Blown Rose is smart, intriguing, and pure delight."
 —Lily King, New York Times bestselling author of Writers & Lovers

"This Close to Okay hits the ground running. Cross-Smith writes tenderly about the trial and error of intimacy and draws you in with enormous warmth and control."—Raven Leilani, New York Times bestselling author of Luster

"Leesa Cross-Smith writes the way many people wish they could: ferociously, tenderly, and with a tremendous amount of heart."—Kristen Arnett, New York Times bestselling author of Mostly Dead Things (on So We Can Glow)