A Sliver of Moon and a Shard of Truth: Stories from India (Chitra Soundar's Stories from India) (Hardcover)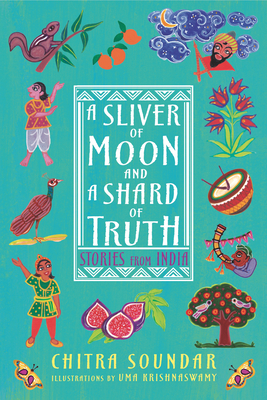 Description
---
Four wry new trickster tales from the creators of Mangoes, Mischief, and Tales of Friendship draw on Hindu mythology and the rich tradition of Indian folktales.

Clever Prince Veera and his best friend, Suku, are back in a vibrant new collection of stories riddled with surprises. When the prince's great uncle, Raja Apoorva, invites the boys to the summer festival in Peetalpur, Prince Veera and Suku are excited to compete in the games. It's no easy feat to make the peahen sing (when peahens can't sing) or defeat the country's champion wrestler, but Raja Apoorva's riddles prove the ultimate test of the boys' wit and wisdom. Who owns the tree that provides the palace figs? What intruder dared pull the Raja's beard? And what are the secrets of the holy man and the astronomer? Packed with glorious trickster tradition, wise-cracking dialogue, and gemlike illustrations, these festive tales of two fast-thinking friends will captivate readers of all ages.
About the Author
---
Chitra Soundar is the award-winning author of more than forty books for children, including Mangoes, Mischief, and Tales of Friendship, illustrated by Uma Krishnaswamy. Originally from India, where she grew up feasting on generous portions of folktales and stories from Hindu tradition, Chitra Soundar now divides her time between India and London.

Uma Krishnaswamy is the illustrator of several books for children, including Mangoes, Mischief, and Tales of Friendship by Chitra Soundar, and has always loved the folk traditions of India for their richness and vibrancy of color, form, and perspective. Uma Krishnaswamy lives in Chennai, India.
Praise For…
---
The writing flows, the boys are wisecracking, and the tales celebrate shrewdness, friendship despite differences in social status, Solomonic insight, and fairness. . . . Lighthearted, brief tales of common sense, virtue, and valor, perfect for reading aloud.
—Kirkus Reviews

Fairness, patience, honesty, and goodness prevail in all situations. An entertaining, expressive read-aloud.
—Booklist

This clever book presents a collection of short stories woven together into one longer narrative. . . Elementary aged readers will love these two quick-thinking friends and enjoy reading about their escapades. The book is broken down into four chapters with small black-and-white illustrations scattered throughout. These attributes, coupled with the fast pace and generous text spacing, combine to make this book a good choice.
—School Library Connection

The spirited problem-solvers Prince Veera and his friend Suku return in a second collection of short tales from India, 'A Sliver of Moon and a Shard of Truth,' a slender volume written by Chitra Soundar and ornamented with charming black-and-white pictures by Uma Krishnaswamy. . . . a brisk and entertaining read.
—The Wall Street Journal