I Kissed the Baby! (Board book)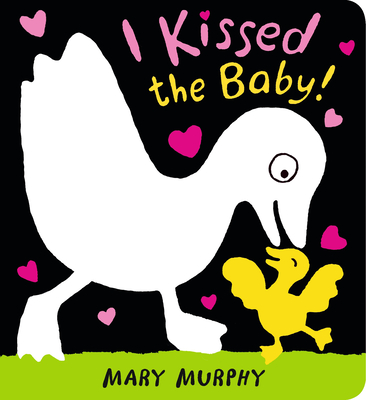 Description
---
Mary Murphy's big, eye-catching graphics and bouncy, ebullient text are sure to enchant readers who are celebrating a baby - or relishing their own claim to the title.

"I saw the baby! Did you see the baby?"
"Yes! I saw the baby, the teeny weeny thing."

It's so exciting! News of the baby is buzzing from animal to animal, with each one - fish, bird, squirrel, insect, frog - boasting of seeing, feeding, singing to, tickling, and kissing the tiny little thing. With bold black-and-white illustrations and a flash of vivid yellow for the wee chick's appearance at the end, Mary Murphy's simple, singsong story captures the giddy commotion only a baby can bring.
About the Author
---
Mary Murphy is the author and illustrator of a number of children's books, including HOW KIND!. I KISSED THE BABY!, she says, "is about how excited everyone is to welcome a new baby into the community. It's best read, like a nursery rhyme, by whomever is holding Baby at the time." She lives in Galway, Ireland.