The Hippo at the End of the Hall (Paperback)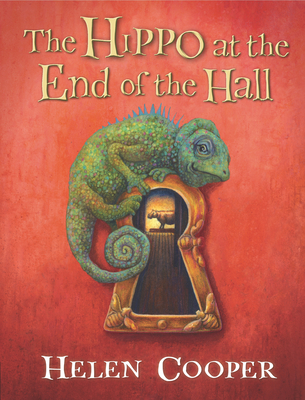 Description
---
When Ben receives a mysterious invitation to an odd museum, he's swept into a peculiar world of forgotten secrets and wild magic in this illustrated novel.

The invitation to the Gee Museum was delivered by bees. It wasn't addressed to anyone, but Ben knows that it was meant for him. Why else would the images on the postcard have stirred up memories of his father, who was lost at sea long ago? Ben makes his way to the old dilapidated building to find a host of curious talking animals awaiting his arrival. They are certain he is the only one who can save the museum. But Ben and the animals in the Gee collection will have to outwit a devious rival museum owner and a greedy land developer. With a bit of luck, some strange magic, and a little help from his mom, Ben might succeed in ensuring the future of the museum — and finding the answers about his father that he's been searching for his whole life. Helen Cooper's first novel brims with mystery and hope, and her lovely illustrations bring the wonders of the Gee Museum to life.
About the Author
---
Helen Cooper is the creator of the picture books The Bear Under the Stairs, Pumpkin Soup, The Baby Who Wouldn't Go to Bed, and Tatty Ratty. She is a two-time winner of the Kate Greenaway Medal and lives in Oxford, England.
Praise For…
---
This supernatural tale of self-discovery in a setting of rare natural history specimens delivers a credible hero, folk-tale threads, memorable characters, and family bonds. Cooper's worldbuilding seems endlessly inventive, the characters that inhabit the museum fully realized, up to and including the storytelling bees...Unusual, fascinating, fast-paced.
—Kirkus Reviews

Picture-book creator Cooper weaves magic and mystery through her debut novel, wonderfully bringing the past to life and enhancing the present, as Ben endeavors to save the Gee Museum from a devious real-estate developer. Along the way, he learns of his family's history, draws upon knowledge gleaned from folktales, and befriends the museum's animals. Cooper incorporates many chapter illustrations, which add further charm to this uncommonly enchanting novel.
—Booklist

Readers who are just beyond Mary Pope Osborne's "The Magic Treehouse" but not quite ready for J.K. Rowling's "Harry Potter" will find this a great fit. A fantastical, captivating illustrated novel that will appeal to many young fantasy readers.
—School Library Journal

This book is a must read for those who love a combination of fantasy, museums, animals, and adventure.
—School Library Connection