Snow Leopard: Ghost of the Mountains (Hardcover)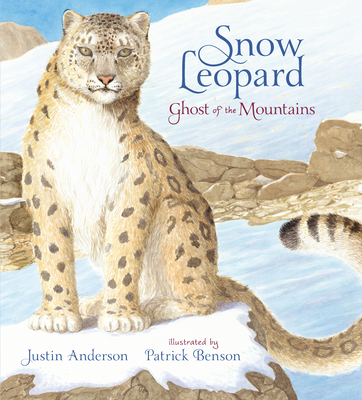 $16.99

In Our Warehouse - Expected arrival in 2-5 days
Description
---
Look! A line of paw prints in the snow. Follow the tracks to see the rare and utterly majestic snow leopard and visit her secret world.

The people who live among the high peaks of the Himalayas tell stories of a mysterious animal called the gray ghost. To see one, you'd have to be very lucky indeed. Join a zoologist in the Himalayan mountains as he searches for the elusive creature. With her pale gold and silver-gray coat painted with black rosettes, she blends so well into the boulders, it's no wonder she's thought of as a ghost of the mountains. But the fortunate few who spot her are rewarded with a sight they will never forget. Written by an expert with firsthand experience, beautifully illustrated, and interwoven with fascinating facts, this vicarious look at a breathtaking animal includes an end note suggesting resources to explore.
About the Author
---
Justin Anderson is a zoologist and filmmaker with a passion for animals and wild places. He spent months in Ladakh leading a BBC crew filming snow leopards for Planet Earth II. Snow Leopard: Ghost of the Mountains is his picture book debut. Justin Anderson lives in England.

Patrick Benson is the illustrator of many beloved books for young readers, including Owl Babies by Martin Waddell and North by Nick Dowson. Patrick Benson lives in Scotland.
Praise For…
---
Benson's endearing watercolor illustrations capture the leopard's furry, pale, gold-and-gray coat, with the black rosettes that offer excellent camouflage in her mountainous habitat. (They depict the author as white as he moves through the Ladakh village with his local guide.) The narrator marvels at his luck to see two snow leopards; readers will feel fortunate to have followed along. An informative, gentle, awestruck look at a mysterious big cat.
—Kirkus Reviews

With strong portrayals of the leopards within their impressive surroundings, Benson's watercolor illustrations capture the animals' dignity as well as their mystery. A handsome picture book for young animal-lovers.
—Booklist

Anderson, a zoologist and filmmaker, frames a captivating and effective introduction to snow leopards as an adventurer's firsthand observations of the elusive animal in its Himalayan habitat. Benson's detailed, precise watercolors—stone-hued, like their subject and its habitat and prey—are complemented by well-chosen words.
—Publishers Weekly

Large snow leopard tracks on the endpapers lead readers to join the narrator on a Himalayan trek in hopes of spotting this elusive animal of the mountains...A stunning closing double-page spread depicts the snow leopard on a craggy bluff with a golden sunset behind her. Appended with an author's note discussing conservation efforts for this threatened species and its reduced habitat; an index; and two sources for further inquiry.
—The Horn Book

Benson's soft watercolors and Anderson's clear prose reveal the "Ghosts of the Mountains," named because of their elusiveness. The chronicle of the trek is interspersed with facts on snow leopard habitat, behavior, physical features, and diet...This quick introduction covers the challenges the snow leopard faces and its conservation status.
—School Library Journal