Mail Order Bride: New Year Bride - A Gift For William: Clean Historical Romance (Brides for All Seasons #7) (Paperback)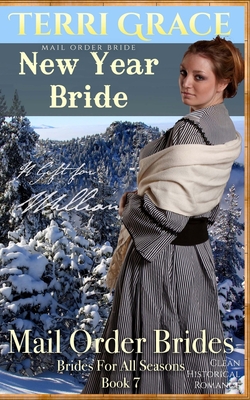 $7.00
Email or call for price.
Other Books in Series
This is book number 7 in the Brides for All Seasons series.
Description
---
Margaret is a mature and God fearing lady, the widow of a city pastor. To escape her grief she seeks companionship with a reformed farrier in the frontier town of Lewiston, Idaho. Their late romance begins well but is interrupted on Christmas day by false accusations thrown at her new husband that leave him in jail. Will she be able to clear his name and celebrate the new year with her loving husband, or will he be slandered and slaughtered for a crime he did not commit? Mature love, a reformed farrier, a frontier romance, Stagecoach robberies and false accusations make for a warmhearted seasonal tale full of winter warmth and family drama. New Year Bride - A Gift For William is the final title in the heartwarming seasonal series, Brides For All Seasons. Sincere seasonal stories filled with simple honest characters you will fall in love with.
About the Author
---
I am at heart a storyteller, and a helplessly 'hopeful' romantic. All of my books are clean Christian romance with great stories, wonderful characters, and delightfully happy endings! Above all else, I love to write Mail Order Bride historical romance, but also enjoy baking in a little cozy mystery now and again to keep readers on their toes. So if you are ready for some good old Mail Order Brides of the West romance, or an adventurous American Mail Order Brides series, you will always discover an exciting historical western romance novella or short story to suit your taste. I also have some free Mail Order Bride books for you. Just go to: _http: //pureread.com/terrigrace_ (http: //pureread.com/terrigrace) to download them for free. All of my Mail Order Bride historical western romance Kindle Unlimited titles are free to read for Kindle Unlimited Subscribers.