Tangled Up in Luck (The Tangled Mysteries #1) (Paperback)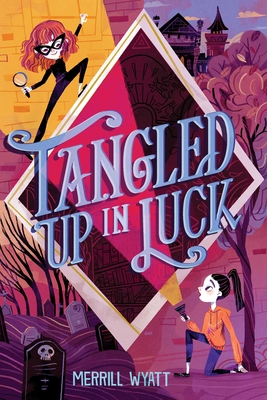 Other Books in Series
This is book number 1 in the The Tangled Mysteries series.
Description
---
"A sweet, heart-squeezing story!" — Jaleigh Johnson, New York Times bestselling author of The Mark of the Dragonfly

When seventh grade enemies research a missing set of jewels for a class project, they realize that the answers to the unsolved case might be much closer to home than they thought in this fun-filled mystery "as satisfying as hot soup on a cold day" (Kirkus Reviews, starred review).

If you told Sloane Osburn and Amelia Miller-Poe that they'd be hiding in their town cemetery from an evil mastermind, they would have been hard-pressed to believe you. If you also told them that person was intent on beating them to a cache of long-lost jewels using nothing more than a slingshot and wicked aim, they'd have been sure you got your facts wrong. Finally, if you told them they'd be doing all of this as friends…well, they would have been sure you needed medical attention.

Whether through serendipity (really, really good luck) or zemblanity (really, really bad luck), someone tricked their teacher into using their seventh-grade class to investigate the mystery of their town's long-missing treasure. From there, things have escalated. Quickly. Now, the girls are stuck hiding behind a gravestone, dodging acorns (who knew acorns could be so threatening?), and just a few clues short of those jewels.

It's up to these enemies-turned-partners to uncover centuries-old clues to find the treasure at the end of this book before the mysterious person on their trail can get to it first…
About the Author
---
Merrill Wyatt lives in Toledo, Ohio, with her husband, daughter, three cats, and a slightly surly guinea pig. She spent far too much of her childhood wandering around cemeteries and old Victorian homes. A middle school technology teacher, she is doll-phobic, donut-obsessed, and owns too many pairs of shoes.
Praise For…
---
"A sweet, heart-squeezing story with beautifully relatable characters and plenty of action and mystery. Sloane and Amelia are a delight!"
— New York Times bestselling author of THE MARK OF THE DRAGONFLY, Jaleigh Johnson

* "The unraveling of the town's mysterious past is evocative of Louis Sachar's Holes. Funny, cheering, and narratively fulfilling."
— Kirkus Reviews, starred review

"The satisfying mystery and authentic friendship offer momentum for the series' next installment."
— Publishers Weekly