A Wish for Winter (Hardcover)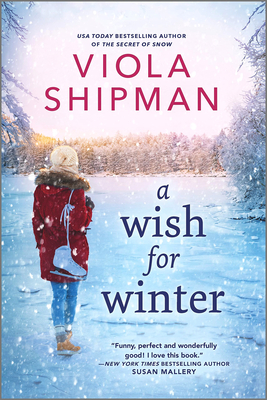 $28.99
Email or call for price.
Description
---
Get cozy with this heartwarming holiday story "I love this book--funny, perfect and wonderfully good. A not-to-be-missed delight." --New York Times bestselling author Susan MalleryWith echoes of classic Hollywood love stories like Serendipity and An Affair to Remember, Viola Shipman's latest winter charmer following the USA TODAY bestseller The Secret of Snow is sure to tug on heartstrings and delight readers who love books about books, missed connections and the magic of Christmas.
Despite losing her parents in a tragic accident just before her fourteenth Christmas, Susan Norcross has had it better than most, with loving grandparents to raise her and a gang of quirky, devoted friends to support her. Now a successful bookstore owner in a tight-knit Michigan lakeside community, Susan is facing down forty--the same age as her mother when she died--and she can't help but see everything she
hasn't
achieved, including finding a love match of her own. To add to the pressure, everyone in her small town believes it's Susan's destiny to meet and marry a man dressed as Santa, just like her mother and grandmother before her. So it seems cosmically unfair that the man she makes an instant connection with at an annual Santa Run is lost in the crowd before she can get his name.
What follows is Susan and her friends' hilarious and heartwarming search for the mystery Santa--covering twelve months of social media snafus, authors behaving badly and dating fails--as well as a poignant look at family, friendship and what defines a well-lived and well-loved life.
"Viola Shipman has written a captivating story for anyone whose memories run deep... This book keeps faith and hope alive " --New York Times bestselling author Sherryl WoodsA Country Living Magazine Best Christmas Book to Read This Holiday Season Don't miss bestselling author Viola Shipman's charming new novel, THE WISHING BRIDGE
--
where an ambitious executive rediscovers the magic of family, friendship, home...and Christmas
Other books by Viola Shipman:
Famous in a Small Town
The Secret of Snow
The Edge of Summer
The Summer Cottage
The Heirloom Garden
The Clover Girls