What Is the Story of Dracula? (What Is the Story Of?) (Paperback)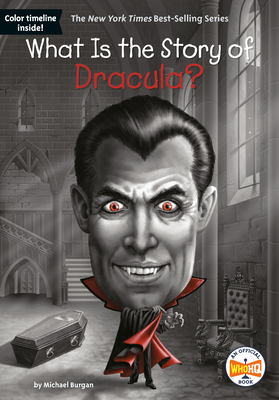 List Price: $7.99
Our Price: $6.99
(Save: $1.00 13%)
Description
---
Who HQ brings you the stories behind the most beloved--and frightening!--characters of our time.

Find out how Dracula--a smooth-talking count with a dark secret--became the infamous creature we all know and fear.

From appearances in films and animated features to interpretations as a Muppet and breakfast cereal mascot, Dracula has been the inspiration for many other fictional vampires and is now an established figure in pop culture.

Created by Bram Stoker in his 1897 Gothic horror novel, Count Dracula is a nobleman who uses his powers as a vampire to dominate his victims. Even though Dracula didn't succeed in the novel, the fictional character has lived on to dominate the real world as one of its most popular supernatural villains.

Author Michael Burgan explores Dracula's mysterious origins in the historical figures who might have shaped the character, as well as the films and actors that cemented Dracula's place in cinematic history.
About the Author
---
Michael Burgan has written more than two dozen biographies for young readers, including Who Is Richard Branson?, Who Was Henry Ford?, Who Was H. J. Heinz?, Who Was Theodore Roosevelt?, and What Is the Story of Batman?