The Woman Inside: A Novel (Hardcover)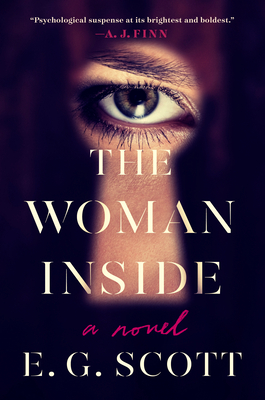 Email or call for price.
Not Available at This Time
Description
---
"A marital saga so pitch-black it makes Gone Girl look like the romance of the decade... [The Woman Inside] resembles past smashes like Big Little Lies and The Woman in the Window."—Entertainment Weekly

An impossible-to-put-down domestic thriller about secrets and revenge, told from the perspectives of a husband and wife who are the most perfect, and the most dangerous, match for each other.
 
Paul and Rebecca are drowning as the passion that first ignited their love has morphed into duplicitous secrecy, threatening to end their marriage, freedom, and sanity. Rebecca, in the throes of opioid addiction, uncovers not only her husband's affair but also his plan to build a new life with the other woman. Spiraling desperately, she concocts a devious plot of her own—one that could destroy absolutely everything.
 
The Woman Inside is a shockingly twisty story of deceit, an unforgettable portrait of a marriage imploding from within, and a cautionary tale about how love can morph into something far more sinister. It's a novel about how people grow apart and how those closest to us can be harboring the most shocking of secrets.
About the Author
---
E. G. Scott is the shared pseudonym of authors Elizabeth Keenan and Greg Wands, whose debut novel, The Woman Inside, was an international bestseller published in 2019. Friends for over two decades, they have acted, produced, and written--together and separately--for the stage, screen, and print. In their former lives, Elizabeth was in book publishing for eighteen years and a writing workshop leader for the NY Writers Coalition, and her work has appeared in numerous short story collections. Greg worked at the NYC institution, Corner Bistro, while penning short fiction and screen projects and volunteering with 826NYC as part of their student creative writing program. They both reside in the West Village of Manhattan.
Praise For…
---
Praise for The Woman Inside

"From its seize-you-by-throat opening to that jack-in-the-box finale, this slick, sleek thriller held me breathless. Psychological suspense at its brightest and boldest."—A.J. Finn, #1 New York Times bestselling author of The Woman in the Window

"A marital saga so pitch-black it makes Gone Girl look like the romance of the decade... [The Woman Inside] resembles past smashes like Big Little Lies and The Woman in the Window."—Entertainment Weekly

"Lies, revenge, questionably reliable narrators, deceit—Scott's domestic thriller The Woman Inside has it all."—Real Simple

"One of InStyle's 7 Books That You Should Resolve To Read This January"

"This twisted domestic thriller hasn't even hit shelves yet, but it's already being adapted as a TV series by Blumhouse, the producers of Sharp Objects. Told from the perspective of a husband and wife who are the most perfect, and possibly the most dangerous, match for one another, The Woman Inside is a dark tale of secrets, lies, unfaithfulness, and revenge that keeps readers guessing until the very end." —Bustle

"Utterly gripping from the outset with compelling characters that leap off the page, plenty of twists to keep you guessing and a killer ending. It is so good!"—Jessica Eames, author of Bad Seed

"This debut by a pseudonymous duo builds tension with twists and turns to the very end; as Paul's lies mount up, Rebecca becomes increasingly addicted and paranoid, and Sheila's vengeful presence looms. Nonstop tension keeps readers turning pages."—Booklist

"Scott trades off points of view, each offering a varying level of unreliability, slowly revealing secrets via one dizzying twists after another, guaranteeing you will keep those pages turning."—B&N Reads

"Even mystery fans who pride themselves on figuring out twists in advance will find themselves on a virtual roller-coaster of sharp turns and surprise reveals that keep coming until the final chapter. The duo's debut is an intricately plotted, multi-twist mystery with a refreshing deadpan sense of humor. With multiple unreliable narrators, mystery fans will have a sensational time trying to stay one step ahead of The Woman Inside."—Shelf Awareness for Readers