Alta Vista: Sage Country Book Two (Paperback)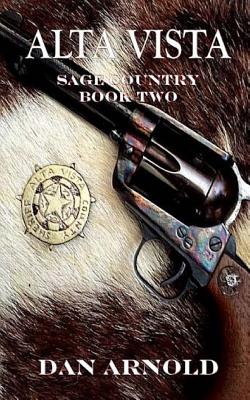 $12.95
Email or call for price.
Description
---
When Sheriff John Everett Sage returns from California to the town of Bear Creek, Colorado, he's prepared to get married. He's not prepared to confront a bunch of killers in the company of both a bounty hunter and a preacher. A daring daylight bank robbery puts him on the trail of murderous outlaws. When he and the posse return, John soon finds himself a married man with two children. How will he balance the responsibilities of his life with the politics and perils of a job that ultimately plunges his little family into mortal danger? As the 19th Century draws to a close, life is hard on the Front Range of the Rocky Mountains. For John Everett Sage, it's hard to stay alive. He's a husband, a father, and a celebrated lawman, committed to do justice, love mercy and walk humbly with his God. Even though the newspapers will probably get it wrong, as Colorado prepares to enter the twentieth century, John Everett Sage will become part of the legend of the west.
About the Author
---
Dan Arnold has led a colorful life, fueling his imagination for telling stories set in the American West. He's written several books of historical fiction and an illustrated book on the training of horses. As a horse trainer and clinician (He trained performance horses for twenty five years), Dan had occasion to travel extensively and was blessed to have worked with a variety of horses and people in amazing circumstances and locations. He's herded cattle in Texas, chased kangaroos on horseback through the Australian Outback, guided pack-trips into the high Sierras and the Colorado Rockies, conditioned and trained thoroughbred race horses, galloped a warmblood on the bank of a canal that was surveyed by George Washington, and spent uncounted, delightful hours breaking bread with unique characters in diverse parts of the world. He makes his home in Texas with his wife Lora. They have four grown children of whom they are justifiably proud, not because they are such good parents, but because God is good. At one (brief) point he was one of the 3% of fine visual artists who earn their entire income from sales of their art. He's a writer, a painter and a sculptor. In 2013, after 40+ years of searching, he found and got reacquainted with his long lost half-brother and a host of relatives from his mother's side of the family. A Member of the Association of Christian Fiction Writers and Western Writers of America, in 2015 his book Angels & Imperfections was selected as a finalist in Christian Fiction in the Reader's Favorite International Book awards.