Meltdown: Discover Earth's Irreplaceable Glaciers and Learn What You Can Do to Save Them (Hardcover)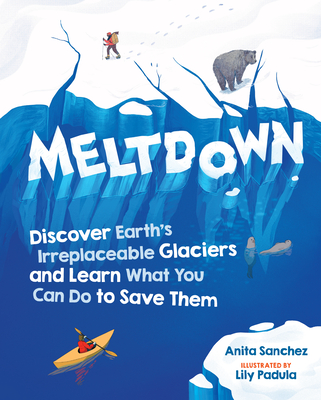 $19.99

In Our Warehouse - Expected arrival in 2-5 days
Description
---
Meet the glaciers—before they disappear. Meltdown: Discover Earth's Irreplaceable Glaciers and Learn What You Can Do to Save Them is a kids' guide to the glorious but endangered world of glaciers. Glaciers may not be as well-known as rain forests or coral reefs, but they are just as vital to the health of the planet, and just as threatened by climate change.
           
Packed with information, grounded in the latest science, with lively writing and illustrations throughout (including graphs, charts, infographics, photographs, and full-page art), Meltdown gives readers an eye-opening overview of glaciers and how important they are: There are over 100,000 glaciers covering 10% of earth's landmass, that hold almost three-quarters of the planet's fresh water, and act as protective shields to cool the atmosphere and combat climate change. We learn how glaciers were formed (some over two million years ago), how they move and carve the planet's landscape, and how scientists study them (the bluer the ice, the older it is). We learn the secrets of earth's climate history hidden deep in a glacier's core—and discover how climate change is causing glaciers to melt at unprecedented rates, putting the health of the planet in jeopardy. 
           
But we are not left without hope. The final chapter offers positive steps readers can take to become climate activists, reduce their carbon footprint, and save the glaciers.
 
About the Author
---
Anita Sanchez worked for over twenty-five years as an environmental educator for the New York State Department of Environmental Conservation, and now serves as an educational consultant to nature centers, arboreta, and school districts. She is the author of nine published books, including the middle-grade science titles Itch:Everything You Didn't Want to Know About What Makes You Scratch and Rotten!:Vultures, Beetles, and Slime, Nature's Decomposers (a Junior Library Guild selection). Visit Anita Sanchez at https://anitasanchez.com/
 
Praise For…
---
"An important perspective on our changing climate."—Kirkus Reviews