Life Hacks for Military Spouses: Advice, Wit, and Humor from Those Who Served Behind the Scenes (Paperback)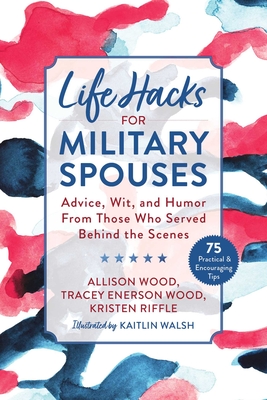 $16.99
Email or call for price.
Description
---
A colorful collection of tips and tricks for getting the most out of the nomadic military lifestyle. Told through humorous anecdotes by those with years of unique experiences, these life hacks reveal a special culture with expectations and numerous obstacles to be faced along the way.

Military life boasts of travel to exotic places, immersion in the worldly cultures, and cuisine that most Americans can only dream about . . . and on the government's dime, to boot!

At least, that's what the common perception is. But those who have served know that while the above may be true, military life comes with its own set of challenges and can be a hardship as much as it is rewarding.

Here to help is the advice, guidance, and personal stories of spouses from all walks of life, in stages from the newlywed to the retired and properly salty. They share tips on overcoming the numerous obstacles, and navigating the special culture, traditions, and the one-of-a-kind lingo of military service.

Gathered mostly from those who are affiliated with the military, but also from those with similar diplomatic lifestyles, the anecdotes reveal the special bond they share with their fellow spouses, and the wisdom gained to pass to the next generation.

The very special illustrations were created by a talented Air Force wife, and reflect both the strong beauty and earnestness of those who are engaged in our nation's most serious business, and yet, have learned not take themselves too seriously.
About the Author
---
Tracey Enerson Wood is a playwright, screenwriter, and novelist from a multi-generational military family. She has authored magazine columns and other nonfiction for publications serving the military and military families, and written and directed plays of various lengths. She served as an active duty spouse for many years, working for military health and support services both professionally as a Registered Nurse, and as a volunteer. She resides in St. Petersburg, Florida.