The D-Day Visitor's Handbook: Your Guide to the Normandy Battlefields and WWII Paris (Paperback)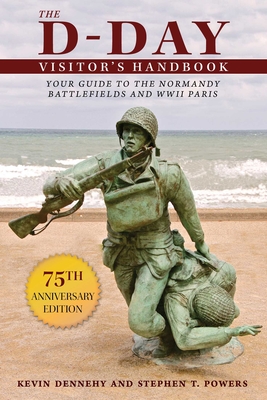 $14.99
Email or call for price.
Description
---
For families of the heroes who fought on the beaches of Normandy during World War II, for fans of Saving Private Ryan, or for traveler interested in history, here is the complete guide to visiting one of the world's most historic battlefields.
The D-Day Visitor's Handbook
includes everything you need to know to plan and make your visit to the site of the biggest seaborne invasion in history. This compact guidebook not only describes the most significant land invasion of World War II, but provides detailed battlefield maps and tours, identifies monuments and attractions, and locates museums and historical sites to make your planning easier and less stressful.
This guide provides everything you need ahead of your visit, including:
Easy-to-follow maps and tours
Where to stay, dine, and shop
Lists of the best D-Day museums
How to find war relics still at the battlefield sites
Historical context for each site, including a description of military action there
A special bonus guide to World War II history and sites in Paris
The D-Day Visitor's Handbook
contains a wealth of detailed information that is perfect for those considering travelling to France, anyone about to visit these sites, veterans, students of military history, and any others who wish to learn about the history of this legendary battle.
About the Author
---
Professor Stephen T. Powers is the author of The March to Victory, A Guide to World War II Battles and Battlefields from London to the Rhine.  A U.S. Naval Academy graduate, Powers was a history professor at the University of Northern Colorado for more than thirty years.
 
Kevin Dennehy has been a journalist for more than thirty years, writing for daily newspapers and magazines.  A retired Army National Guard colonel, Dennehy is a Special Forces combat veteran of Afghanistan and Iraq. He lives in Denver, Colorado.