In the Valley of the Sun: A Novel (Hardcover)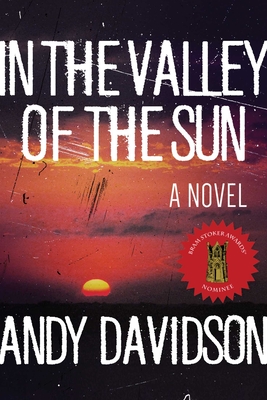 $24.99
Email or call for price.
Description
---
A finalist for the 2017 Bram Stoker Award for Superior Achievement in a First Novel.

Deftly written and utterly addictive, this Western literary horror debut will find a home with fans of authors like Joe Hill, Cormac McCarthy, and Anne Rice.

One night in 1980, a man becomes a monster.

Haunted by his past, Travis Stillwell spends his nights searching out women in West Texas honky-tonks. What he does with them doesn't make him proud, just quiets the demons for a little while. But after Travis crosses paths one night with a mysterious pale-skinned girl, he wakes weak and bloodied in his cabover camper the next morning—with no sign of a girl, no memory of the night before.

Annabelle Gaskin spies the camper parked behind her motel and offers the cowboy a few odd jobs to pay his board. Travis takes her up on the offer, if only to buy time, to lay low and heal. By day, he mends the old motel, insinuating himself into the lives of Annabelle and her ten-year-old son. By night, in the cave of his camper, he fights an unspeakable hunger. Before long, Annabelle and her boy come to realize that this strange cowboy is not what he seems.

Half a state away, a grizzled Texas Ranger is hunting Travis for his past misdeeds, but what he finds will lead him to a revelation far more monstrous. A man of the law, he'll have to decide how far into the darkness he'll go for the sake of justice.

When these lives converge on a dusty autumn night, an old evil will find new life—and new blood.
About the Author
---
Andy Davidson holds an MFA in fiction from the University of Mississippi. Born and raised in Arkansas, he currently makes his home in Georgia, where he lives with his wife and a bunch of cats.
Praise For…
---
Praise for Andy Davidson's In the Valley of the Sun:

"In this bold, confident debut, Davidson takes the vampire myth to 1980s West Texas, perfectly capturing the feel of the era and place . . . Davidson successfully makes the lines between genre and literary fiction bleed together in a complex novel of horror, human nature, and the American South."—Publishers Weekly, starred review

"This is not your typical vampire novel, rather it is actually a lyrical modern western, with a large dose of suspense. Everyone has a secret, and no one is completely innocent. The story drips with atmosphere, and the plot and the characters will play with readers' minds. Hand this hauntingly dark, yet oddly beautiful debut to fans of literary psychological suspense who don't mind a touch of the supernatural, and especially target fans of the film Hell or High Water and the novels of Cormac McCarthy or Stephen Graham Jones. This is one that readers won't easily forget after turning the final page." —Booklist, starred review

"If Stephen King and James Lee Burke had a love child, it would be Andy Davidson . . . In the Valley of the Sun is a powerful, audacious debut." —Lone Star Literary reviews

"Turns out there's a middle space between Tender Mercies and Preacher and Henry: Portrait of a Serial Killer. It's called In the Valley of the Sun. And if I didn't know Andy Davidson had written it, I'd swear this was some long lost William Gay. I burned through this. It's got teeth on every page." —Stephen Graham Jones, author of Mongrels

"In the Valley of the Sun is a flint-hard, gorgeously written nightmare." —Laird Barron, author of The Beautiful Thing That Awaits Us All

"In the Valley of the Sun is a riveting blend of vampire horror, a serial killer's tale, and police procedural. Andy Davidson's monsters—both supernatural and all-too-human—are beautifully conceived, leading us to an easy empathy with demons we'd ordinarily flee. Here is first-rate storytelling that grabs your attention and keeps you guessing." —Dana Cameron, author of Hellbender

"In the Valley of the Sun is a beautiful nightmare. A book that haunts, teases, and compels. Rarely does a debut grab and jerk you in, leaving you wanting to finish every page as if it's the last thing you'll ever read. Davidson's love and mastery of the language enhance the beauty of the plot, and add to the terror that can't be avoided once you start reading. This, plus the perfectly written characters that force us to care for them, make this novel a must-read for any brave horror fan." —Erik Storey, author of Nothing Short of Dying

"In the Valley of the Sun is, like some knives, a work of art—sharp, frightening, and elegant. I marveled at Davidson's prose even as he scared the living hell out of me. What a wild ride. I loved it." —Nicholas Mainieri, author of The Infinite

"On the surface, In the Valley of the Sun is a perfectly paced thriller that's chillingly fun to read, but Davidson's prose transcends genre like a fresh Cormac McCarthy. He slides the reader into these characters who are desperately searching for a lost innocence. We shudder at what they do and what is done to them, and as we journey with them through a soul-shredding darkness that reveals the brilliant gossamer threads of joy, we are overcome with equal parts terror and compassion. A must read!" —Dana Chamblee Carpenter, author of The Devil's Bible

"Davidson's rich prose plunges the reader into a hell all the more terrifying for its banality—behind a dusty, middle of nowhere motel (swampy pool and all) an unspeakable evil is slowly approaching the boiling point. Equal parts psychological horror, procedural thriller, and good old-fashioned western, In the Valley of the Sun grabs you by the throat and drags you down a twisted road, ending in a horrifying, bloody finale." —E.Z. Rinsky, author of Palindrome

"With lyrical prose and creeping dread, Davidson deftly turns the screws . . . Sure to haunt a new generation of readers." —Kelly J. Ford, author of Cottonmouths

"In the Valley of the Sun moves to a slapback echo and does not disappoint. Andy Davidson writes his gritty debut novel the way experienced drivers command the road. And Travis Stillwell's story is by turns spare and solemn—but also vast and treacherous—as the Southwest he drives." —Jeffrey Stayton, author of This Side of the River

"In the Valley of the Sun . . . takes hold of one of the most popular tropes in horror and brings the clichés to their knees, twisting tired concepts in thoughtful, and dare we say, original, ways. The result is a supernatural rural noir, reeking of Texas and blood, that grabs you by the throat and never lets go."—This Is Horror

"Davidson's unrelenting realism renders the supernatural—when it strikes—completely shocking, nearly inevitable."—The Horror Review