The Uplift War (Paperback)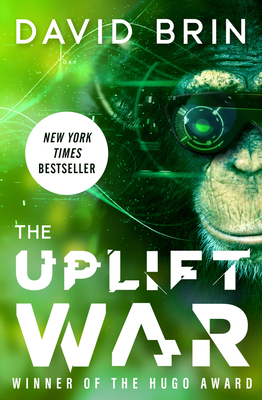 $21.99
Email or call for price.
Description
---
Hostile aliens take an Earth colony hostage in this New York Times-bestselling hard science fiction adventure by the author of Startide Rising. Although they were uplifted and given full sapience, the Bururalli clearly weren't ready to run a planet, almost wrecking Garth. As a "salvage world," it was given to despised Earthlings, assigned to reclaim it from the brink. Many senior Galactics--leaders of the Five Galaxies--hoped humanity would fail. But now Garth is peacefully surging back, tended by human and neo-chimpanzee colonists. Meanwhile, enemies desperately seek some way to coerce Earthclan, looking for a possible answer to the secret of the Progenitors. One of them--the Gubru avian race--prepares to invade and hold hostage defenseless Garth. With Earth itself under attack by other militant forces, no relief is coming for the embattled colonists. If they are to survive, they have no choice but to band together, improvise, and learn the tactics of guerilla warfare. This book features a new introduction by the author. Winner of the Hugo Award "An exhilarating read that encompasses everything from breathless action to finely drawn moments of quiet intimacy. There is no way we can avoid coming back as many times as Brin wants us to, until his story is done." --Locus "Shares all the properties that made Startide such a joy. The plot fizzes along . . . and there are the wonders of the Galactic civilizations (which have all the invention and excitement that SF used to have)." --Asimov's Science Fiction "The Uplift books are as compulsive reading as anything ever published in the genre." --The Encyclopedia of Science Fiction
About the Author
---
David Brin is an astrophysicist whose international-bestselling novels include Earth, Existence, Startide Rising, and The Postman, which was adapted into a film in 1998. Brin serves on several advisory boards, including NASA's Innovative Advanced Concepts program, or NIAC, and speaks or consults on topics ranging from AI, SETI, privacy, and invention to national security. His nonfiction book about the information age, The Transparent Society, won the Freedom of Speech Award of the American Library Association. Brin's latest nonfiction works are Polemical Judo and Vivid Tomorrows: Science Fiction and Hollywood. Visit him at www.davidbrin.com.