Brightness Reef (Paperback)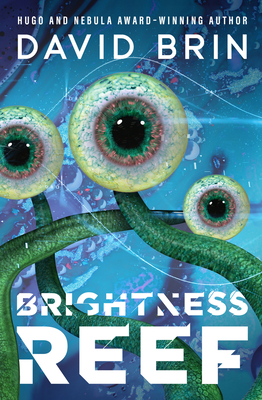 $21.99

In Our Warehouse - Expected arrival in 2-5 days
Description
---
Strange visitors throw a planet of refugees into chaos in this science fiction adventure by the author of New York Times bestseller The Uplift War.
Book One in the Uplift Storm Trilogy
Centuries ago, the Buyur race abandoned Jijo. Now off-limits to settlers, it's warded by guardian machines who will protect the planet until the Institutes of the Five Galaxies declare Jijo ready--in another million years--for new civilization.
But mere laws and guardians can't keep out the desperate. Clandestine bands of "sooners" have sneaked down to the lonely planet. Six intelligent races--all refugees--have bickered . . . then built a new society in the wilds of Jijo, hidden beneath forest canopies. Together they live in harmony--and in fear of the day their illegal colony will be discovered and judgment from the Five Galaxies will rain down upon them.
One day a strange starship finally does appear on Jijo. But its owners do not bring law or judgment. Only dire secrets. And they'll do whatever it takes to keep them . . .
This book features a new introduction by the author.
Hugo Award Finalist
"A captivating read . . . Brightness Reef leaves you looking forward to more. It's a worthy addition to what promises to be a great science fiction series." --Star Tribune
"Brin is a skillful storyteller. . . . There is more than enough action to keep the book exciting, and like all good serials, the first volume ends with a bang." --The Plain Dealer
"A universe that's immensely appealing, leaving readers hungry for more of this exciting, epic adventure." --Publishers Weekly
"Tremendously inventive, ambitious work." --Kirkus Reviews
"A timely, science fictional contemplation of the refugee experience."--Santa Fe Reporter
About the Author
---
David Brin is an astrophysicist whose international-bestselling novels include Earth, Existence, Startide Rising, and The Postman, which was adapted into a film in 1998. Brin serves on several advisory boards, including NASA's Innovative Advanced Concepts program, or NIAC, and speaks or consults on topics ranging from AI, SETI, privacy, and invention to national security. His nonfiction book about the information age, The Transparent Society, won the Freedom of Speech Award of the American Library Association. Brin's latest nonfiction works are Polemical Judo and Vivid Tomorrows: Science Fiction and Hollywood. Visit him at www.davidbrin.com.