True Believer: A Thriller (Terminal List #2) (Hardcover)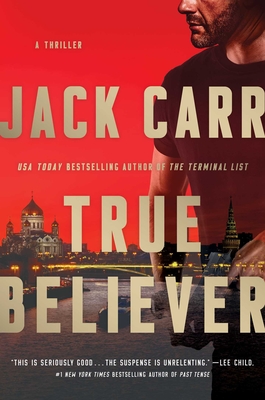 $28.99

In Our Warehouse - Expected arrival in 2-5 days
Other Books in Series
This is book number 2 in the Terminal List series.
Description
---
INSTANT BESTSELLER

"This is seriously good. I mean—seriously." —Lee Child, #1 New York Times bestselling author of Past Tense

"Take my word for it, James Reece is one rowdy motherf***er. Get ready!" —Chris Pratt, star of the #1 Amazon Prime series The Terminal List

"A powerful, thoughtful, realistic, at times terrifying thriller that I could not put down. A terrific addition to the genre, Jack Carr and his alter-ego protagonist, James Reece, continue to blow me away."—Mark Greaney, #1 New York Times bestselling author of Mission Critical

"True Believer, the highly anticipated new thriller from Jack Carr, is one of this year's hottest thrillers, and a perfect fit for fans of Vince Flynn, Brad Thor, and Daniel Silva." —The Real Book Spy

In #1 New York Times bestselling author Jack Carr's follow-up to The Terminal List, former Navy SEAL James Reece's skill, cunning, and heroism put the US government back in his debt and set him on another path of revenge.

When a string of horrific terrorist attacks plagues the Western world during the holiday season, the broader markets fall into a tailspin. The attacks are being coordinated by a shadowy former Iraqi commando who has disappeared into Europe's underground. The United States government has an asset who can turn the Iraqi against his masters: James Reece, the most-wanted domestic terrorist alive.

After avenging the deaths of his family and team members, Reece emerges deep in the wilds of Mozambique, protected by the family of his estranged best friend and former SEAL Team member. When a series of events uncovers his whereabouts, the CIA recruits him, using a Presidential pardon for Reece and immunity for the friends who helped him in his mission of vengeance.

Now a reluctant tool of the United States government, Reece travels the globe, targeting terrorist leaders and unraveling a geopolitical conspiracy that exposes a traitorous CIA officer and uncovers a sinister assassination plot with worldwide repercussions.

A high-intensity roller-coaster ride, True Believer explodes with action and authenticity that cements Jack Carr as the new leader in political thrillers.
About the Author
---
Jack Carr is a #1 New York Times bestselling author and former Navy SEAL Sniper. He lives with his wife and three children in Park City, Utah. He is the author of The Terminal List, True Believer, Savage Son, The Devil's Hand, In the Blood, and Only the Dead. His debut novel, The Terminal List, was adapted into the #1 Amazon Prime Video series starring Chris Pratt. He is also the host of the top-rated podcast Danger Close. Visit him at OfficialJackCarr.com and follow along on Instagram, Twitter, and Facebook at @JackCarrUSA.
Praise For…
---
"Carr dominates the world of international intrigue with exotic settings, blitzkrieg action, and tactical authenticity. Quintessential hero James Reece is exactly what's needed in today's chaotic political milieu. Brace yourself for this unforgettable bull ride. Carr's blistering novel will make you a TRUE BELIEVER."
— K.J. Howe, Internationally Bestselling Author of SKYJACK

"Gritty, intelligent, and a brilliant sequel to The Terminal List. Jack Carr once again delivers a bomb cyclone of a thriller."
— Dirk Cussler, co-author of #1 New York Times Bestselling Author Clive Cussler's CELTIC EMPIRE

"Jack Carr's TRUE BELIEVER takes you on a journey into the world of the most difficult hunting on earth, the hunting of men. Flawed and imperfect as they may be, these hunters are the best our government has to offer, standing between good and evil. As you take this mind blowing, heart racing ride, you will constantly wonder, what's waiting for you in the shadows, and more importantly, can you survive."
— Bernard B. Kerik, New York City's 40th Police Commissioner

"Lots of new characters have been compared to Vince Flynn's Mitch Rapp, but James Reece is one of the very few who actually deserves such praise . . . True Believer, the highly-anticipated new thriller From Jack Carr, is one of this year's hottest thrillers, and a perfect fit for fans of Flynn, Brad Thor, and Daniel Silva . . . Once the bullets start flying, you better hold on tight, because the action never lets up for a second—with Carr delivering the kind of adrenaline-inducing action sequences you'd expect from someone who knows that life intimately."
— The Real Book Spy

"Packs a punch. Carr's second effort is a well-crafted thriller with timely reflections on the increasingly complicated world of international terrorism."
— Kirkus Reviews

"A powerful read! Very few writers walk the line between pulse-pounding excitement and searing character development as well as Jack Carr. In TRUE BELIEVER, Carr delivers another engaging, action-packed read with an impossible-to-fake-authenticity other writers can only dream about. One of the best books of the year."
— Simon Gervais, former RCMP counterterrorism officer and internationally bestselling author of Hunt Them Down.

"This is one of those books where you love the action, but really look forward to where the author pulls back the curtain on subjects you never knew you might want to learn about… Just be careful - don't start True Believer until you can read it through all the way to the end. What a ride!"
— Kurt Schlichter, Senior Columnist at Townhall and author of Wildfire and Militant Normals

"Jack Carr creates an incredibly vivid, emotional, action-packed tapestry of carnage and death."

— Justen Charters, Black Rifle Coffee Company, Coffee or Die Magazine

"It's hard to stand out in the crowded field of former military men writing about the worlds they know, but Carr manages to do just that. . . Carr will make true believers out of fans who love the novels of Ben Coes, Brad Taylor, and Alex Berenson."
— Booklist

"Jack Carr is simply one of the top writers of political thrillers. In modern times, it is easy to cheer for anyone who takes down terrorists, even if it's James Reece, a wanted man. When a series of coordinated attacks occur, the US calls on him. His ways may be unconventional, but they work."
— Bookreporter.com, Best of 2019 pick