Strays: The True Story of a Lost Cat, a Homeless Man, and Their Journey Across America (Paperback)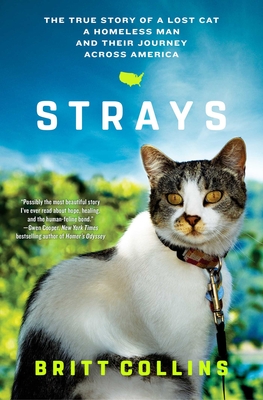 $16.99
Email or call for price.
Description
---
For fans of A Street Cat Named Bob and Dewey: The Small-Town Library Cat Who Touched the World, "this lovely, luminous story will warm your heart and make you laugh and want to share your life with a rescue cat" (Jeffrey Moussaieff Masson, author of The Nine Emotional Lives of Cats).

Alcoholic and depressed, Michael King lives on the streets of Portland, Oregon, and sleeps in a UPS loading bay. One raining night, he stumbles upon a hurt, starving, scruffy cat cowering beneath a café table and takes her in. He names her Tabor, nurses her back to health, and she becomes something of a celebrity in Southeast Portland. When winter comes, they travel from Oregon to the beaches of California to the high plains of Montana, surviving blizzards, bears, angry steers, and rainstorms.

Along the way, people are drawn to the spirited, beautiful cat and are moved to help Michael, who cuts a striking figure with Tabor riding high on his backpack or walking on a leash. Tabor comforts Michael when he's down, giving him someone to love and care for, and inspiring him to get sober and to come to terms with his past family traumas and grief over the death of his life partner.

As they make their way along the West Coast, the pair become inseparable, healing the scars of each other's troubled pasts. When Michael takes Tabor to a veterinarian in Montana, he discovers that Tabor has an identification chip and an owner in Portland who has never given up hope of finding his beloved cat. Michael is faced with the difficult choice of keeping Tabor or returning her to her rightful owner—and, once again, facing the streets alone.
About the Author
---
Britt Collins is an English journalist who writes for the Guardian, the Sunday Times, the Independent, Harper's Bazaar, Condé Nast Traveller, and Billionaire.com. She has volunteered at animal sanctuaries around the world, from tending big cats and baboons in Namibia to wild horses in Nevada—a labor of love that has inspired features for the Guardian and the Sunday Times. While writing Sunday People, she has raised hundreds of thousands of dollars for many international charities through her investigative animal-cruelty stories; as an activist, she has helped shut down controversial breeders of laboratory animals. She lives with her cats in London.
Praise For…
---
"When a homeless man met a stray feline, it led to an odyssey that changed their lives forever."
— New York Post

"A tearjerker of a movie waiting to happen."
— Bustle (16 best nonfiction reads)

"Readers who empathized with the honesty and humility of James Bowen's A STREET CAT NAMED BOB will be moved by this healing love story."
— Library Journal

"Beautifully written and with great sensitivity by a gifted writer . . . It's a story about doing the right thing, even when it rips your heart out to do so."
— The Conscious Cat

"Written in a highly detailed, narrative style, this is both a heartwarming tale of animals' ability to transform people and a humanizing depiction of the factors leading to homelessness."
— Booklist

"Tabor's journey is a wonderful reminder of how animals can help create extraordinary circumstances, which help people join together even in the toughest of times. The prose is beautiful, the story compelling."
— Amos Lassen, founder of Literary Pride

"Strays will certainly appeal to fans of Bob the street cat, but offers a fascinating and complex twist on an old plot. You'll laugh, you'll cry and most likely be an emotional wreck at the bittersweet ending. But it'll be well worth it!"
— Purrington Post

"An inspirational story about love, loss, redemption and the transformative power of the bond that develops between humans and animals."
— Ocala Style magazine

"A touching, in-depth look at the lives of a remarkable stray cat and a remarkable down-and-out man who brought each other joy and unexpected adventure. This lovely, luminous story will warm your heart, make you laugh and want to share your life with a rescue cat."


— Jeffrey Moussaieff Masson, author of The Nine Emotional Lives of Cats

"Britt Collins's accessible and empathetic new book, Strays, portrays the close bond between Michael and Tabor as they traveled through America, facing the challenges of living on the road, both from nature and from circumstance. The story continues to linger in my mind and reminds me that the care of an animal really can motivate and make change possible."
— Claire Bessant, CEO of International Cat Care

"At times heart-wrenching, Strays held me captive, eager, and anxious for little Tabor to find her way back home. And at the end, I was reminded of the ultimate price of loving an animal—the moment of loss, the moment when you have to say the pain was worth the gift of loving another of the world's creatures."
— Barbara Bennett, author of Soul of a Lion

"Strays is the affectionate telling of a remarkable story. There is much more here than the healing power of the human/animal bond or a tale of survival and adventure on the margins of society. Strays reminds us that there is no such thing as a small or insignificant life and that every life has intrinsic value."
— Francis Battista, Co-Founder of Best Friends Animal Society

"A powerful tale of a drifter saving, and being saved by, a stray feline. This book is a reminder that the animals that shadow us in our lives help to make us more human."
— Scott Carney, New York Times Bestselling author of What Doesn't Kill Us