Mrs. Houdini: A Novel (Paperback)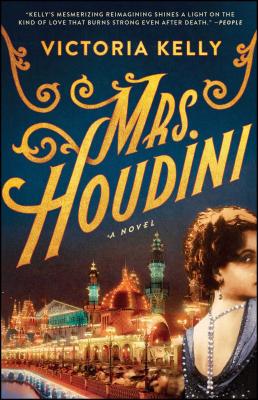 $16.00
Email or call for price.
Description
---
"Richly lyrical and thought-provoking" (Publishers Weekly, starred review), this "stellar debut from a novelist to watch" (Geraldine Brooks, Pulitzer Prize winning author) explores the passionate marriage of Harry Houdini and his wife, Bess—a love story that defied death itself.

Before escape artist Harry Houdini died, he vowed he would find a way to speak to his beloved wife, Bess, from beyond the grave using a coded message known only to the two of them. But when a widowed Bess begins seeing this code in seemingly impossible places, it becomes clear that Harry has an urgent message to convey. Unlocking the puzzle will set Bess on a course back through the pair's extraordinary romance, which swept the illusionist and his bride from the beaches of Coney Island, to the palaces of Budapest, to the back lots of Hollywood. When the mystery finally leads Bess to the doorstep of a mysterious young photographer, she realizes that her husband's magic may have been more than just illusion.

In surprising turns that weave through the uncertain days of the dawn of the twentieth century and continue into the dazzling 1920s, Mrs. Houdini is a "dazzling and enchanting" (Shelf Awareness, starred review) tale, "a marvel that gallops through time and space" (Associated Press), and a "mesmerizing reimagining" (People) of one of history's greatest love stories.
About the Author
---
Victoria Kelly received her M.F.A. from the Iowa Writers' Workshop, her B.A. Summa Cum Laude from Harvard University, and her M.Phil. in creative writing from Trinity College Dublin, where she was a US Mitchell Scholar. She is the author of the poetry collection When the Men Go Off to War. Her fiction and poetry have appeared in the anthologies Best American Poetry 2013 and Contemporary American Poetry, as well as Alaska Quarterly Review, Southwest Review, Prairie Schooner, and North American Review. She lives in Virginia with her husband and daughters.
Praise For…
---
"A splendid debut novel...Moving effortlessly beyond mere fictionalized biography, Kelly delivers a richly lyrical and thought-provoking novel with closing twists that feel as impossible, inevitable, and satisfying--as magical, in short--as one of Houdini's own illusions."
— Publishers Weekly (starred review)

"Kelly's mesmerizing reimagining shines a light on the kind of love that burns strong even after death."
— People

"A grand story of secrets, codes and magic befitting one of history's greatest illusionists and the love of his life...Kelly animates the love story of this historic couple with a smooth blending of research and artistry...Dazzling and enchanting, Mrs. Houdini will captivate readers in a fashion that would make Harry and Bess proud."
— Shelf Awareness (starred review)

"Victoria Kelly brings immense imaginative empathy to bear on the fascinating story of the woman who stood beside Harry Houdini, on stage, in life, and after his early death. Resonant, haunting and deeply felt, this is a stellar debut from a novelist to watch."

— Geraldine Brooks

"Kelly has a deft hand in setting a scene."
— Library Journal

"Mrs. Houdini is a dazzling blend of adventure, love, betrayal, and redemption."
— Historical Novel Society, Editor's Pick

"Victoria Kelly's impressive debut is a magical, poignantly romantic tale of the world's greatest escape artist and the remarkable woman who was his devoted partner, both onstage and off. In Mrs. Houdini, love proves to be the most mysterious and powerful of all death-defying acts."
— Jennifer Chiaverini, New York Times bestselling author

"A magical trip through a magical time—a fresh and absorbing read."

— Kate Alcott

"Kelly confidently peels back layers of Bess, revealing a fiercely intelligent and independent woman trying to heal spiritual, emotional, and metaphysical wounds. Had the man who made an elephant disappear before hundreds of people pulled a similar trick on her and with her heart no less? Or, is love the deepest mystery and biggest illusion of them all?"
— NY1

"Mrs. Houdini is a delightful read, and will resonate with anyone who's ever been struck by the illogical but nonetheless compelling notion that a lost beloved may yet reappear, despite all rational evidence to the contrary. The book answers that great "What if?" and does so in an eminently pleasurable way."
— Star Tribune

"For anyone intrigued by magic and illusion, and Harry Houdini in particular, Kelly's fictional biography of Bess Houdini will fascinate...The well-crafted characters and the mystery behind Houdini's vow to communicate with Bess after death propel the plot forward, captivating readers."
— RT Magazine

"A marvel that gallops through time and space [and] vibrates with plot-driven energy, unforgettable characters and unpredictable twists…Mrs. Houdini offers a rollicking ride from a Coney Island music hall and a traveling circus in the 1890s to Hollywood and Atlantic City, New Jersey, in the 1920s. It's a ghost story, a love story and a great tale of suspense…Without a single misstep, Mrs. Houdini is a pure delight from the first page to the last."
— Associated Press

"Mrs. Houdini is a thrilling tale that will take you deep into the heart of one of history's greatest love stories."
— BookReporter

"A poignant portrait of a satisfying marriage, the rupture of grief and the seemingly magical ability of love to survive the grave."
— Forward

"By the time the sparkling ending is reached—an ending that couldn't be more perfect—you'll be entranced…especially if a bit of gauzy illusion is what you'd love in a romance. Mrs. Houdini is great escapism."
— Naples Daily News

"This author's debut novel will keep you turning the pages to find out if Harry finally reaches Bess."
— The Missourian

"Mrs. Houdini is an engaging addition to the tradition of books that seek to put flesh onto historical, but often obscure, women attached to famous men."
— The Military Spouse Book Review

"Mrs. Houdini is, in its way, a ghost story, and like every good ghost story, it comes with an ending that will make you shiver. But it's not a shiver of fear that Kelly's fine debut provokes, though there's morethan a hint of the uncanny in its pages. It's the shiver one gets from an excellent story skillfully told, with characters whose fates are fully and sympathetically realized."
— Kevin Brockmeier, author of The Illumination

"Bess Houdini was swept into history by an impulsive and passionate love, and then left bereft when her world-renowned husband died too soon. And that is where we find her at the beginning of the novel. Kelly has drawn Bess with such charm and moxie that I felt myself pulled into the pages, racing alongside her to uncover the clues Harry left behind, then stunned and weeping when she discovers the future he imagined for her."
— Kaylie Jones, author of Lies My Mother Never Told Me