Vicious Circle (Hector Cross #2) (Paperback)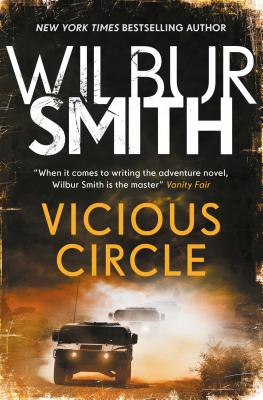 $16.00
In Our Warehouse - Expected arrival in 2-5 days
Other Books in Series
This is book number 2 in the Hector Cross series.
Description
---
The second Hector Cross thriller

The second Hector Cross thriller 'The stench of death follows you, Hector Cross. You are as loathsome as the black hyena. I curse you to your grave, and I shall spit upon it when at last they lay you in it" It's like a nightmare but he's wide awake... When Hector Cross' pregnant wife is shot, he believes the terrorists who nearly destroyed his life have returned to finish the job when he now has so much more to lose. But as he follows the trail across the globe and right back home to London, a new more terrifying battle begins. For there are worse things in Cross' world than terrorist kidnappers, and those evils are set on obliterating everything Cross holds most dear. Can he save those he loves -- or will he pay the ultimate price for someone else's mistakes?
About the Author
---
Wilbur Smith (Author)
Wilbur Smith is a worldwide phenomenon. His readership has built up over fifty-five years of writing.
Born in Central Africa in 1933, W ilbur became a full-time w riter in 1964 follow ing the success of When the Lion Feeds, and has since published over forty global bestsellers, including the Courtney Series, the Ballantyne Series, the Egyptian Series, the Hector Cross Series and many successful standalone novels, all meticulously researched on his numerous expeditions worldwide.
The establishment of the W ilbur & Niso Smith Foundation in 2015 cemented W ilbur's passion for empowering writers, promoting literacy and advancing adventure writing as a genre. The foundation's flagship programme is the W ilbur Smith Adventure W riting Prize.

For all the latest information on W ilbur visit w w w .w ilbursmithbooks.com or facebook.com/WilburSmith

Mark Chadbourn (Author)
Mark Chadbourn is a Sunday Times bestselling author of historical fiction novels about the Anglo-Saxon warrior Hereward, published under his pseudonym James Wilde. His Age of Misrule books, under his own name, have been translated into many languages. As a screenw riter, he's written for the BBC and is currently developing series for Lionsgate and several of the streaming netw orks. He began his career as a journalist reporting from the world's hotspots.