In the Case of Heartbreak (Fern Falls #2) (Paperback)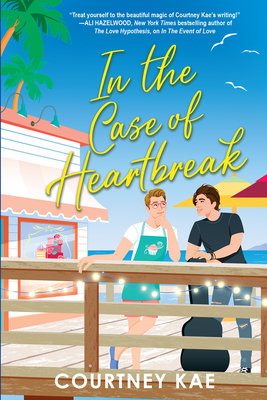 $16.95

In Our Warehouse - Expected arrival in 2-5 days
Other Books in Series
This is book number 2 in the Fern Falls series.
Description
---
With a gorgeous beachfront mansion, salty ocean breeze, steamy nights, and ALL the summertime feels, this funny, sexy queer rom-com is a celebration of summer love, as a cinnamon roll of a pastry chef finds his indie rocker crush suddenly within reach. Perfect for fans of Casey McQuiston, Roan Parrish, Alexandria Bellefleur, Ruby Barrett, and Alexis Hall!

Ben has been baking his mother's cinnamon rolls at the family café for years. He's been quietly in love with Adam Reed, his musician-slash-mechanic neighbor, for just as long. But Ben's done waiting behind the pastry case. Despite his fear of failure, he's entered a make-or-break competition to build his recipes into a national brand. He's going to take charge of his business instead of nearly tanking the café—again. And he's going to finally confess his feelings for Adam. ON LIVE TV.

Except his big plans get punched down before they even half-rise. Soon Ben is dashing down the coast to his grandma's 80th birthday party on the beach, hiding his broken heart in Maywell Bay, California. Sun, sea, and fresh breezes should blow in something new—except they don't. They blow in Adam Reed, grinning like a pirate and stealing the show as the musical entertainment hired by Grandma for her big bash. Grandma's signature Heartbreak Tea is the only remedy, and Grandma's tea could take the paint off a fence.

But there's a burn of truth along with the booze in his bottle, and Ben has a decision to make. Can he take the sweetness in front of him, and brave the bitterness that comes after? Or is a little sea salt just what this cinnamon roll needs?

Salty cinnamon rolls? Ew. Ben would never.


"In the Case of Heartbreak shines in its range—the warmth, peace, and coziness of its charming beachside town setting and the sweetness and sizzle from its dynamic romance between Ben and Adam." —Carlyn Greenwald, author of Sizzle Reel

"Like the most delicious cinnamon roll, In the Case of Heartbreak is warm and gooey and the ultimate comfort treat. I devoured this book!" —Alicia Thompson, bestselling author of Love in the Time of Serial Killers
About the Author
---
Courtney Kae (she/they) is the author of sweet and steamy romance novels that give her queer little heart great joy. She lives in Southern California with her family, cats, and dehydrated houseplants. Find her on Instagram, Twitter, and TikTok at @court_kae and online at CourtneyKaeBooks.com.
Praise For…
---
Praise for In the Case of Heartbreak
 
"Forced proximity? Check. Cinnamon rolls? Check. Adorable queer love? Check. This book has all the makings of the perfect summer romance movie!" —Amanda Lovelace, author of You Are Your Own Fairy Tale

"In the Case of Heartbreak is an absolutely captivating romance that is sure to leave readers swooning and inspired. I teared up multiple times while reading, as I was so touched by Adam and Ben's devotion to each other. I never wanted to leave the world of the book. Courtney Kae creates settings as dazzling as a fairytale; her writing is simply irresistible." —Taleen Voskuni, author of Sorry, Bro

"In The Case of Heartbreak is a story that unfolds in depth and flavor much like Ben's signature pastry, the cinnamon roll . Kae's novel is soft and warm, and with its alternating passion and tenderness is a perfect combination of sweet and spicy. I deeply felt the devastation of the live television rejection, and I stood up from my seat, when one of the main characters gets a much needed telling off. Heartbreak took me on a satisfying emotional ride. Kae's novel manages to be both a gripping tale of self-discovery and healing through toxic relationships, and a toe-curling sexy exploration of the other side of unrequited love. You'll root for Ben from page one, but you'll fall in love with his entire hilarious family and once again with Fern Falls by the novel's end." —Nikki Payne, author of Pride and Protest

"Equal parts sexy, sunny, and sweet, Courtney Kae serves up the perfect friends-to-lovers romance. But her secret ingredient is the tenderness she shows for her characters, as they navigate how to best love each other and themselves. This book reads like a happy sigh." —Brian D. Kennedy, author of A Little Bit Country

"Charming, sexy, and full of Big Feels, Courtney Kae bakes a subtly intense cake with Ben and Adam's love story that's equal parts sweet and savory. The care taken in the discussion of mental health is exquisite, delicately folded into Ben and Adam's characters in a way that will stick with me for a long time. In the Case of Heartbreak is the swoony queer romance of my dreams, where courtship and consent has never been sexier." —Steven Salvatore, critically acclaimed author of AND THEY LIVED…, and the forthcoming THE BOYFRIEND SUBSCRIPTION

"Courtney Kae has done it again. In the Case of Heartbreak, takes the classic Hallmark movie formula, pours it into a queer stand mixer, and serves up the sweetest, gayest, sweetest confection of a romance. You'll come for Ben and Adam's emotional love story and stay for the delightfully hilarious side characters that surround and lift them up. Kae bakes a delectable, sexy romance that will have you licking your lips with satisfaction." —M.A. Wardell, author of Teacher of the Year

"What an absolute, heartfelt treat—rich with tender friends-to-lovers longing, the perfect dose of swoony sweetness, and the joy of hope-filled, healing love." —Chloe Liese, author of Two Wrongs Make a Right

"In the Case of Heartbreak by Courtney Kae is the scrumptiously sweet, beachy romance of my dreams! Brimming with pure joy and sunshine, this is sure to put a smile on your face." —Amy Lea, international bestselling author of EXES AND O'S
 
"Courtney Kae has done it again! In the Case of Heartbreak is a zany love story as sweet and gooey as Ben's famous cinnamon rolls. If you adore small-town romance, childhood friends-to-lovers, big emotion and (of course) delicious sweet treats, add this to your summer TBR, stat! You'll gobble it up!" —Georgia Clark, author of It Had to be You and Island Time

"In the Case of Heartbreak made me believe in the power of love, despite all odds. I swooned, I cried, I cheered, I swooned some more. Readers will fall in love with Ben, Adam, and Kae's delightful cast of small-town characters with massively big hearts. Courtney Kae's writing sparkles so much on the page that readers will be left with stars in their eyes." —Kate Spencer, author of In a New York Minute

"Like the most delicious cinnamon roll, Courtney Kae's In the Case of Heartbreak is warm and gooey and the ultimate comfort treat. I wanted to give Ben the biggest hug, and was rooting for him and Adam to get to their happily ever after. I devoured this book!" —Alicia Thompson, bestselling author of Love in the Time of Serial Killers

"Reading In the Case of Heartbreak is like wrapping your hands around a hot mug of tea on a chilly day - comforting, joyful, and very hard to put down." —Robin Lefler, author of Reasonable Adults
 
"In the Case of Heartbreak is an absolutely scrumptious small town romance with the sweetest cinnamon roll of a hero, a swoon-worthy love interest, and a hilariously quirky cast! Ben's journey toward love and healing is filled with warmth and depth, and is topped off by a generous sprinkling of humor. This book gripped me by the heartstrings and left me laughing in equal measure!" —Tori Anne Martin, author of This Spells Disaster
 
"Charming and heartfelt! This small-town romance has all the trappings of a delightful Hallmark-esque movie, and it's wonderfully and proudly queer. With all the feels, swoon-worthy pining, and steamy love scenes worth the wait, Ben and Adam's love story is heartwarming. Serious self-discovery, honest conversations, deliciously described baked goods, and hilariously meddlesome family and friends—the latest Fern Falls novel will make readers sigh in satisfaction." —Danielle Jackson, author of The Accidental Pinup
 
"A sweet, swoony cinnamon roll of a romance! In the Case of Heartbreak is full of romantic yearning, quirky characters, fabulous parties, and, most importantly, healing through self-love." —Susie Dumond, author of Queerly Beloved
 
"A loving and tender romance that feels like the best sort of hug, IN THE CASE OF HEARTBREAK is everything I look for in a love story. This will be a story I come back to when I need a dose of comfort." —B.K. Borison, author of the Lovelight series

"Much like Kae's stunning debut, In the Case of Heartbreak shines in its range—the warmth, peace, and coziness of its charming beachside town setting and the sweetness and sizzle from its dynamic romance between Ben and Adam. The lovable, meddlesome baker boy of In the Event of Love is going to be your next favorite romance lead." —Carlyn Greenwald, author of Sizzle Reel

"Courtney Kae has given us the literal cinnamon roll hero of our dreams! In the Case of Heartbreak is filled with beautifully honest vulnerability and an oh-so-delicious romance that will leave readers everywhere drooling. It serves as a tender reminder that life's sweetest moments are best shared with those we love most." —Chip Pons, author of You & I, Rewritten

"If you're looking for a beachy escape chock full of emotional rollercoasters and a quirky cast of characters, In the Case of Heartbreak has you covered. Ben and Adam are just the type of fluffy, gooey cinnamon rolls the world needs, and their tender love story will satisfy your sweet tooth. A wonderful indulgence!" —TJ Alexander, author of Chef's Kiss and Chef's Choice