Can You Dance Like John? (Hardcover)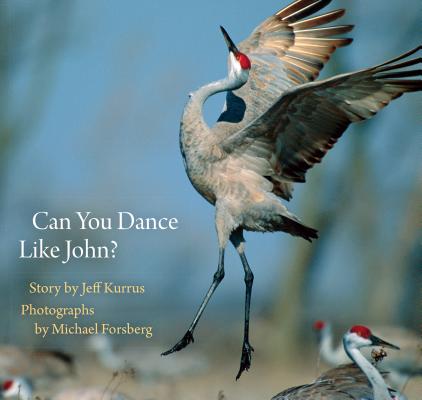 $16.95
In Our Warehouse - Expected arrival in 2-5 days
Description
---
"Mary and John Crane's flight back toward their nesting grounds in Alaska was starting differently than most years. It wasn't that they had lost each other again, like they did the year before in Nebraska, but this spring John wasn't his normal self."

So begins Can You Dance Like John?, Jeff Kurrus's fictional account of one sandhill crane learning to cope with the loss of her mate. Set on the crane's migration path, this bittersweet story of love, loss, and healing will appeal to all ages. Michael Forsberg's beautiful color photographs also help entertain and educate readers about sandhill cranes.
 
About the Author
---
Jeff Kurrus is the editor of the award-winning wildlife publication NEBRASKAland magazine and author of Have You Seen Mary? and The Tale of Jacob Swift. Michael Forsberg is an internationally acclaimed wildlife photographer and winner of the Ansel Adams Award from the Sierra Club. He is the author of On Ancient Wings: The Sandhill Cranes of North America and the coauthor of Great Plains: America's Lingering Wild. 
Praise For…
---
"Can You Dance Like John? is a lovely tale and a great teaching tool that's both poignant and optimistic. Illustrated lavishly by the photographs of Michael Forsberg, the pages speak to the dangers of being a modern-day migrating bird but also to the inner workings and wonders of the most magnificent migration spectacle in North America."—Joel Sartore, photographer, author, conservationist, and founder of the National Geographic Photo Ark
 
— Joel Sartore
"Can You Dance Like John? is an emotionally moving and visually stunning tribute to Plains wildlife. It is also a universal story of loss and renewal, offering much-needed encouragement to those seeking to rejoin the miraculous dance of life."—John T. Price, author of Daddy Long Legs: The Natural Education of a Father 
 
— John T. Price
"This is a wonderful book full of striking photographs and a text grounded in a naturalist's knowledge and love of cranes. Can You Dance Like John? also carries an important message of hope, promising we can survive and find a new normal after even our deepest griefs."—Margaret Lukas, author of Farthest House
 
— Margaret Lukas
"Can You Dance Like John? is refreshingly honest as it gently traverses the emotions of love, loss, and moving on. Alongside Michael Forsberg's stunning sandhill crane photography, this is an eternal story beautifully translated for little ears."—Mark Harris, author of Rodeo Nebraska and associate director of the University of Nebraska State Museum
— Mark Harris