What Does It Mean to Be American? (What Does It Mean To Be...?) (Hardcover)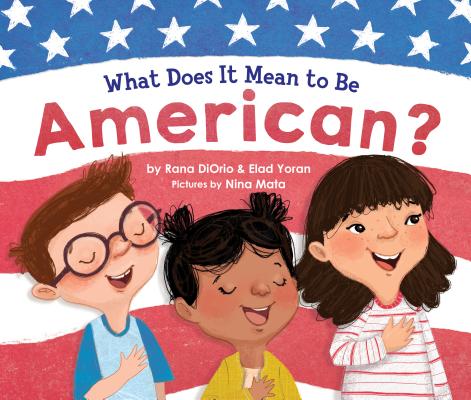 $17.99

In Our Warehouse - Expected arrival in 2-5 days
Description
---
An engaging picture book for children that celebrates what it means to be American!
What does it mean to be American? Does it mean you like apple pie or fireworks? Not exactly.
This patriotic picture book is perfect for Memorial Day, Independence Day, Election Day, or any day you want to share with your child what it means to be an American. After all, Fourth of July isn't the only time to celebrate what makes America special!
While politics seem to divide our country into the two opposing teams of red and blue, one truth remains: we are all Americans. But what does that mean?
Gold Moonbeam Award Winner!
IBPA Benjamin Franklin Award Finalist!
Foreword Reviews INDIES Finalist!
This continuation of the popular, award-winning What Does It Mean to Be…? series provides a nonpartisan point of view perfect for any and all Americans who are proud of who they are—and where they come from, regardless of their political views.
Other Titles in the What Does It Mean to Be…? Series:
What Does It Mean to Be Present?
What Does It Mean to Be Global?
What Does It Mean to Be Kind?
About the Author
---
Rana DiOrio is an intrepid force for empowerment and positive change. Her purpose is to help people maximize their potential, and she continues to expound and expand upon that mission across her diverse and highly successful career.
As a corporate and securities attorney, tech-sector investment banker, investor, and advisory board member, Rana has catalyzed the financial, operational, and cultural growth of organizations for almost three decades. As an award-winning author and children's media entrepreneur, she has sparked meaningful conversations between children and their caring adults and is focused on fostering kindness in the next generation by helping creatives who make this possible realize the full potential of their work through her company, Creative Mint, Inc. She lives in San Francisco, CA with her three children. Follow Rana on Twitter @ranadiorio and on Instagram @ranedear.
Elad Yoran is a 20+ year cybersecurity veteran, business executive and Adjunct Associate Professor at Columbia University School of International and Public Affairs (SIPA). He has founded and led many successful companies for which he was honored as "Entrepreneur of the Year" by Ernst & Young. Elad serves as director at several government and industry boards including the Army Cyber Institute, the Cloud Security Alliance, and previously, the FBI IT Advisory Council. Elad is the author of many articles and is a frequent speaker and lecturer. He has appeared on BBC, Bloomberg, CNN, Fox Business, Fox News and others. Previously, Elad served as a US Army officer and is veteran of Operation Restore Hope in Mogadishu, Somalia. He is a graduate of the Wharton School and West Point. Elad lives in New York with his wife and four children. Follow Elad on Twitter @EladYoran.
Praise For…
---
"I'm absolutely in love with What Does it Mean to Be American? Written by author, entrepreneur and mom Rana DiOrio along with former US Army paratrooper turned military cyber-securiity expert and dad of four, Elad Yoran, the result is truly something special. What Does It Mean to Be American dives into a complex topic with thoughtful, accessible prose. And hey, maybe it will even start meaningful conversations among adults, too." — Liz Gumbinner, Cool Mom Picks

"Mom's Choice Award Winner"

"With engaging illustrations and an accessible text, What Does It Mean to Be American? orients children to the spirit of our inclusive, optimistic country. This book is a great way to teach kids about some of our country's most important commitments." — Ganesh Sitaraman, author of The Crisis of the Middle-Class Constitution: Why Economic Inequality Threatens Our Republic, one of The New York Times' 100 Notable Books of 2017

"What Does It Mean To Be American? is a vivid reminder that every American is part of something bigger than themselves. Nina Mata's remarkable illustrations pair perfectly with DiOrio and Yoran's lyrical prose to teach kids that we can achieve excellence by practicing integrity, both individually and as a nation of individuals working together." — General Craig R. McKinley, United States Air Force (retired)

"Beautifully written and vividly illustrated, this book is a great starting point for kids of all ages to ponder what being an American means to them and the common bonds that unite us all." — U.S. Senator Jack Reed

"Reading this book with my young children and following the lessons learned will mold them into the Americans I want them to be." — Alejandro Villanueva, Pro Bowl NFL player, former US Army Ranger and decorated veteran of Afghanistan, and first generation American

"The multicultural people pictured throughout the richly hued pages are ethical, caring, and aware of their responsibilities as citizens. There is a hopeful, uplifting tone, matched by the illustrations' rosy portrayal of the United States" — Kirkus Reviews

"What Does It Mean to Be American? is a memorable book for younger children to begin to understand our great country and its values. It is never too early to learn, or too late to be reminded, about what makes America so unique." — Mike Krzyzewski, Duke University and USA Senior National Team (2005-16) Head Coach