The Doll People's Christmas (Hardcover)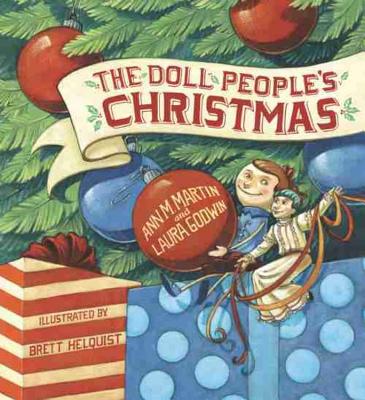 $17.99
Email or call for price.
Other Books in Series
This is book number 5 in the The Doll People series.
Description
---
Fans of the award-winning Doll People chapter books, which have sold more than 1 million copies, will love revisiting their favorite characters in this festive picture book by bestselling creators.

Christmas is Annabelle Doll's favorite time of year. She loves celebrating with her family, and she especially loves all the beautiful decorations Kate and Grandma Katherine put up in the dollhouse. She can't wait to have Tiffany and the rest of the Funcrafts over for their very first Christmas. But when the angel topper for the Dolls' tree breaks, Annabelle is convinced the holiday is ruined. And things only get worse when Kate and Nora decide to use the dolls to create a nativity scene downstairs, meaning Annabelle won't be able to keep her special traditions at all! But as Christmas spirit fills the Palmers' home, Annabelle realizes that all she needs for a truly perfect holiday is to share it with her friends and family.

 
About the Author
---
Ann M. Martin is the bestselling author of the momentous Baby-Sitters Club series as well as the Main Street series. Her other acclaimed novels include A Dog's Life, Belle Teal, Rain Reign, and the Newbery Honor Book A Corner of the Universe. She lives in upstate New York.

Laura Godwin lives and works in New York City but grew up in Alberta, Canada. She has written many well-loved books for children, including Owl Sees Owl, Christmas in the Manger, This Is the Construction Worker, and Oh, Cats!

Brett Helquist's celebrated art has graced books from the charming Bedtime for Bear to the alarming New York Times bestselling A Series of Unfortunate Events by Lemony Snicket, to the glorious picture book adaptation of Charles Dickens' A Christmas Carol. He lives with his family in Brooklyn, NY.
Praise For…
---
Praise for The Doll People:
"[Readers] are in for a marvelous treat in this delicious fantasy."  —
Kirkus, starred review
"Martin and Godwin inventively spin out their own variation on the perennially popular theme of toys who secretly come to life…Doll lovers may well approach their imaginative play with renewed enthusiasm and a sense of wonder after reading this fun-filled adventure."  —
Publishers Weekly, starred review
"It's not easy to write a good book about dolls. Martin and Godwin not only set up a realistic doll world but also provide a credible mystery. The story gets a wonderful boost from Brian Selznick's pencil drawings...he catches every bit of humor."
 —
Booklist
"Black-and-white pencil drawings illustrate this lively addition to the doll-fantasy genre."
 —
Horn Book
"A lighthearted touch and a dash of drama make this a satisfying read. Selznick's illustrations are perfectly suited to the innocent charm of the dolls and do much to draw readers into their world."
 —
School and Library Journal
"'The Doll People' is part of a solid tradition of doll stories. But Ann M. Martin and Laura Godwin have given their amusing novel a decidedly contemporary twist: 19th-century porcelain meets 20th-century plastic."—
The New York Times
Praise for The Meanest Doll in the World:
"With its indelible mingling of wit, action, characterization, and art, this stands alone, but will especially thrill expectant fans of the original Doll People."—
Kirkus, starred review
"The team behind 
The Doll People
 serves up a second helping of fanciful fun."—
Publishers Weekly, starred review
"Readers...will hope for many more tales in the series for years to come."—
Bookpage
"A thoroughly charming exploration of the fantasy that dolls are secretly alive. In this action-packed sequel, things heat up even further."
—
Booklist
"The book's broad humor and action balance with smaller, more personal dramas…Selznick's illustrations, in their wit and profusion, tie it all together in one appealing package."
 
—
Horn Book
"This fantasy is destined to be a favorite for years to come."—
School Library Journal
Praise for The Runaway Dolls:

"Fans of the first two Doll People stories will be thrilled with number three."
—
Kirkus, starred review
"Fast-paced, satisfyingly developed, the book is doubly enjoyable for its foundation in a solidly imagined doll culture."
—
Publishers Weekly, starred review
"[I]n the pantheon of living toys, the Doll and Funcraft families of Ann M. Martin and Laura Godwin's admired Doll People series reign supreme."
—
The New York Times
"Gentle humor, believable characters with distinct personalities, and a strong plotline will keep readers coming back for more."
—
Booklist
Praise for The Doll People Set Sail:
"Readers are guaranteed very smooth sailing."
 —
Kirkus
"A rousing adventure that treats fans to thrilling action...and personable new dolls to discover."—
Publishers Weekly, starred review
"
The fourth installment of 'The Doll People' series is an adventure on the high seas...This is a good choice for independent readers ready to try something longer."
 —
School Library Journal
"Though it's not necessary to have read the first three entries, it's the stalwart fans who will be cheering 'Doll power!' the loudest as these beloved characters prove once again they can all work together."—
Horn Book
Praise for The Doll People's Christmas:
"The beloved Doll People series of novels for middle graders extends to a younger audience with this Christmas story."—
Kirkus
"The authors' gentle storytelling and Helquist's intimate images of the dolls' miniature world create a Christmas story that's rich with emotion."—
Publishers Weekly
"Fans of the "Doll People" chapter books will welcome seeing the familiar characters in a slight but engaging holiday story. It is sure to spark renewed interest in those popular titles."—
School Library Journal
Other accolades for the Doll People series:
An ALA Notable Children's BookA Capitol Choices Noteworthy Title for Children and TeensCCIRA Colorado Children's Book Award Runner-UpA Child Magazine Best Book of the YearDorothy Canfield Fisher Children's Book award Masterlist
A Garden State Children's Book Award NomineeAn Indian Paintbrush Book Award Nominee
A Junior Library Guild SelectionKentucky Bluegrass Award Master ListMaryland Children's Book AwardMassachusetts Children's Book award Master ListMaud Hart Lovelace Book AwardA National Parenting Center Seal of ApprovalPennsylvania Young Readers' Choice Award Master ListA Publishers Weekly Best BookA Rhode Island Children's Book Award NomineeA School Library Journal Best BookA Texas Bluebonnet Award NomineeA Volunteer State Book Award Nominee