Larry Bond's Red Dragon Rising: Shock of War (Compact Disc)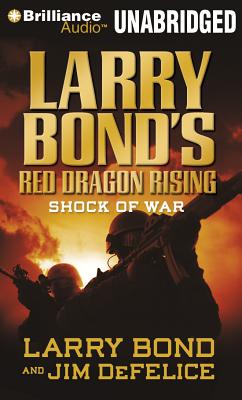 $59.97
Email or call for price.
Other Books in Series
This is book number 3 in the Red Dragon series.
Description
---
Under secret orders from the president, U.S. Army Major Zeus Murphy sabotages a Chinese invasion fleet on the eve of its assault against Vietnam. But Murphy and fellow officer Win Christian are trapped behind enemy lines after Christian's erratic behavior gives them away. Back in America, President Chester Greene fails to convince Congress or the Pentagon that the Chinese invasion of Vietnam is the first step in a plan to rule Asia - and eventually go to war with the United States. After Murphy and Christian dodge a Chinese armored division and return to Vietnam, Zeus proposes a plan to blunt the tank attack. His commanding officer orders him to stand down. Murphy disobeys to help the Vietnamese woman he loves; Christian goes with him to prove he's not a coward. Within hours, the men are staring down the barrels of Chinese battle tanks at the border. The countdown to all-out war begins... In Larry Bond's Red Dragon Rising: Shock of War, New York Times bestselling authors Larry Bond and Jim DeFelice imagine a horrifying near-future. "The techno-thriller has a new ace and his name is Larry Bond." - Tom Clancy, bestselling author of Without Remorse.