Traitors of Rome (Eagles of the Empire 18) (Paperback)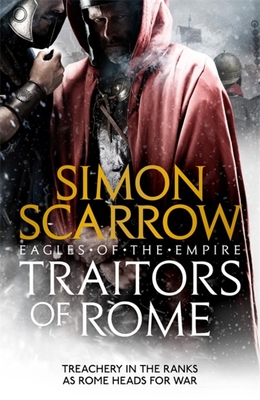 Email or call for price.
Not Available at This Time
Description
---
AVAILABLE FOR PRE-ORDER NOW: THE EMPEROR'S EXILE - A RIVETING DRAMA OF REBELLION AND PLAGUE IN ROMAN SARDINIA. COMING IN NOVEMBER 2020.

TRAITORS OF ROME: THE SUNDAY TIMES BESTSELLER

An enthralling Cato and Macro adventure in Simon Scarrow's bestselling Eagles of the Empire series. Not to be missed by readers of Conn Iggulden and Bernard Cornwell.

AD 56. Battle-hardened veterans of the Roman army Tribune Cato and Centurion Macro are garrisoned at the eastern border, aware that their movements are constantly monitored by spies from dangerous, mysterious Parthia. But the enemy within could be the deadliest threat to the Legion ... and the Empire.

There's a traitor in the ranks. Rome shows no mercy to those who betray their comrades, and the Empire. But first the guilty man must be discovered. Cato and Macro are in a race against time to expose the truth, while the powerful enemy over the border waits to exploit any weaknesses in the Legion. The traitor must die ...

Praise for Simon Scarrow's bestselling novels:

'Blood, gore, political intrigue...A historical fiction thriller that'll have you reaching for your gladius' Daily Sport

'Gripping... ferocious and compelling' Daily Express

'Brilliantly told adventures ... Roman soldiering at its very best - even by Scarrow's high standards' Sunday Sport
About the Author
---
Simon Scarrow is a Sunday Times No. 1 bestselling author. His books include the Eagles of the Empire novels featuring Roman soldiers Macro and Cato, most recently THE BLOOD OF ROME, DAY OF THE CAESARS and INVICTUS, as well as HEARTS OF STONE, set in Greece during the Second World War, SWORD AND SCIMITAR, about the 1565 Siege of Malta, and a quartet about Wellington and Napoleon. He is the author with T. J. Andrews of the novels ARENA and INVADER, and of the new novel PIRATA in 2019.
Find out more at www.simonscarrow.co.uk and on Facebook /officialsimonscarrow and Twitter @SimonScarrow
Praise For…
---
A new book in Simon Scarrow's long-running series about the Roman army is always a joy—Independent

A new book in Simon Scarrow's long-running series about the Roman army is always a joy—The Times

I really don't need this kind of competition... It's a great read—Bernard Cornwell

I really don't need this kind of competition... It's a great read

Praise for Simon Scarrow's novels: 'Gripping... ferocious and compelling—Daily Express