Microbites: Mummies: Riveting Reads for Curious Kids (DK Bitesize Readers) (Paperback)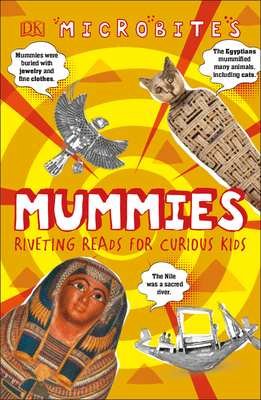 $6.99
Email or call for price.
Description
---
This nonfiction chapter book is chock-full of bite-size mummy facts, black-and-white photographs, and CGI illustrations to dazzle and engage even the most reluctant reader.

The ancient process of mummification is mysterious, but Microbites: Mummies breaks it all down into manageable chunks of information on need-to-know topics like embalming, tombs and temples, religious rituals, and other aspects of life in Ancient Egypt. Illustrations and photographs accent nearly every page, while highlighted text calls out important takeaways about each chapter topic, revealing new details about the Ancient Egyptians' mind-blowing burial practices. For further learning, kids can turn to the book's eight-page reference section, where they'll find a glossary, a historical timeline, and a list of the most influential pharaohs. Whether they're new to Ancient Egypt or seasoned pros, readers will find plenty of fascinating facts to chew on in Microbites: Mummies.

DK's Microbites series takes daunting nonfiction topics and transforms them into easy-to-digest, mini-guides on kids' favorite subjects from history, science, and the natural world. Packed with eye-catching illustrations, detailed photographs, and the latest scientific research on everything from dinosaurs to mummies, the Microbites series encourages a healthy reading appetite in kids ages 8 through 12, and will leave them hungry to learn more.
About the Author
---
We believe in the power of discovery. That's why we create books for everyone that explore ideas and nurture curiosity about the world we live in.
 
From first words to the Big Bang, from the wonders of nature to city adventures, you will find expert knowledge, hours of fun and endless inspiration in the pages of our books. 

https://www.dk.com/