DK Reader Level 2: Meet the Quokkas! (DK Readers Level 3) (Paperback)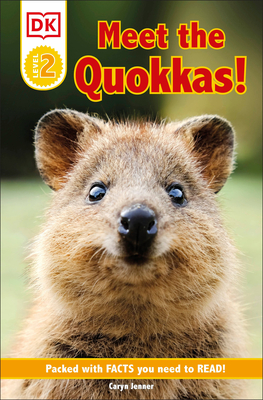 Description
---
Journey into the outback and find out all about these adorable Australian creatures. Learn about where quokkas call home, how they raise their babies, what they love to eat, and much more!

Does your child love quirky, furry creatures? This children's reading book about the beloved Australian quokka, packed full of fun facts and cute quokka pictures, will be perfect for them.

In this chapter book for children you'll visit tiny islands off the Australian coast in search of smiley quokkas. Children will be fascinated to find out why this friendly marsupial is described as one of the happiest animals on the planet. Fascinating facts are paired with adorable photographs of quokkas, providing an ideal balance of words and images for children learning to read.

Created with the help of top literacy consultants, Quokkas is the perfect book to help build general knowledge at the same time as learning to read. And as this cheeky, mischievous animal is a hit with kids, this book will encourage reading for pleasure, which is linked with improved reading and writing skills.

Quokkas is a new Level 2 title in the engaging four level DK Readers series, aimed at children who are beginning to read. Helping to develop a lifelong love of reading, DK Readers cover a vast range of fascinating subjects to support children as they become confident readers. DK Level 2 readers are suitable for children reading book band books up to orange level.
About the Author
---
We believe in the power of discovery. That's why we create books for everyone that explore ideas and nurture curiosity about the world we live in.
 
From first words to the Big Bang, from the wonders of nature to city adventures, you will find expert knowledge, hours of fun and endless inspiration in the pages of our books. 

https://www.dk.com/