DK Life Stories: Alexander Hamilton (Paperback)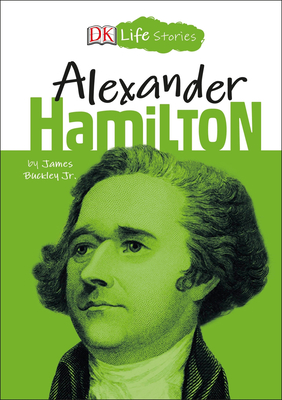 Description
---
In this kids' biography, discover the amazing life story of Alexander Hamilton, Founding Father of the United States whose work as an American statesman and strong personality made him an icon of history and popular culture.

Alexander Hamilton is known not only for his political brilliance, but also for his strong principles and astonishing achievements. In this biography for kids 8-12, read about how, from humble beginnings as an orphan, Hamilton defied all the odds and made a lasting name for himself in many arenas, including politics, finance, and the military.

DK Life Stories go beyond the basic facts to tell the true life stories of history's most interesting people. Full-color photographs and hand-drawn illustrations complement thoughtfully written, age-appropriate text to create an engaging book children will enjoy reading. Definition boxes, information sidebars, fun facts, maps, inspiring quotes, and other nonfiction text features add depth, and a handy reference section at the back makes this series perfect for school reports and projects. Each book also includes an author's introduction letter, a glossary, and an index.
About the Author
---
Author James Buckley, Jr. has written more than 100 books for kids. Among his recent titles are Who Was Muhammad Ali? (Penguin, 2014), Scholastic Year in Sports (Scholastic, 2009-14), The Scholastic Ultimate Guide to Football (Scholastic, 2009), Eyewitness Baseball (DK, 2010 reissue), and Lou Gehrig: More Than Just a Ballplayer (Sterling, 2010). He has also written popular reference books and titles on nature, history, space, and cars.

Literacy consultant Stephanie Laird is an instructional coach at Mitchellville Elementary in Mitchellville, Iowa, and is currently serving on the International Literacy Association's (ILA) Board of Directors through 2019. She was the 2014 recipient of the ILA Technology and Literacy Award. Stephanie is the President-Elect of the Iowa Reading Association and was the 2017 Conference Chair of the Iowa Reading Association's annual conference. Along with being an ambassador and advocate for education, literacy, and teacher leadership across her state, Stephanie was a member of ILA's Literacy, eLearning, Communication, and Culture Committee and has contributed to the International Literacy Day Activity Kit, Literacy Daily, and ReadWriteThink.