DK Life Stories: Albert Einstein (Paperback)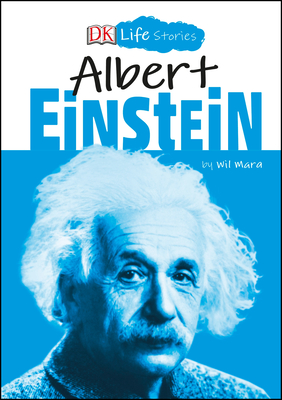 Description
---
In this kids' biography, follow the remarkable life story of Albert Einstein, whose legendary genius and creative imagination made him one of the world's most famous thinkers.

Albert Einstein is known as one of the most brilliant people in history. His many theories and discoveries changed the way scientists think and work, and the way in which we look at and understand things. In this kids' biography for ages 8-12, learn all about Einstein's family and education, his travels and troubles, and the special compass he was given as a young boy that first set him on the path to questioning the world around him.

DK Life Stories go beyond the basic facts to tell the true life stories of history's most interesting people. Full-color photographs and hand-drawn illustrations complement thoughtfully written, age-appropriate text to create an engaging book children will enjoy reading. Definition boxes, information sidebars, fun facts, maps, inspiring quotes, and other nonfiction text features add depth, and a handy reference section at the back makes this series perfect for school reports and projects. Each book also includes an author's introduction letter, a glossary, and an index.
About the Author
---
Wil Mara is an award-winning author. He has written extensively for children, including more than 50 titles in the Rookie Biographies and Rookie Read-About series, as well as five titles for the best-selling The Boxcar Children series.

Literacy consultant Stephanie Laird is an instructional coach at Mitchellville Elementary in Mitchellville, Iowa, and is currently serving on the International Literacy Association's (ILA) Board of Directors through 2019. She was the 2014 recipient of the ILA Technology and Literacy Award. Stephanie is the President-Elect of the Iowa Reading Association and was the 2017 Conference Chair of the Iowa Reading Association's annual conference. Along with being an ambassador and advocate for education, literacy, and teacher leadership across her state, Stephanie was a member of ILA's Literacy, eLearning, Communication, and Culture Committee and has contributed to the International Literacy Day Activity Kit, Literacy Daily, and ReadWriteThink.