Virtual Reality (Hardcover)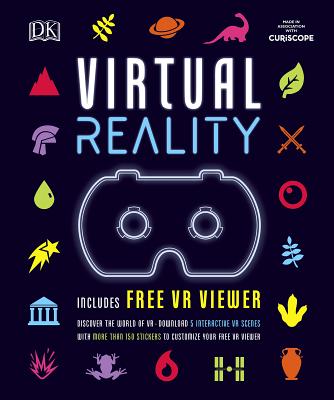 $16.99
Email or call for price.
Description
---
A new book by the author of Smithsonian Maker Lab that explores the realities of virtual reality, explaining what VR is and how it works. Includes an app download for five exclusive VR experiences and a cardboard viewer with stickers to make it your own.
Learn about the history of VR, from how it was invented to how it is used in the world today—beyond smart phone apps—and how VR headsets play with your senses of sight, sound, and touch to fool you into thinking you are somewhere else. Then use the included VR viewer and smartphone app download to come face-to-face with a T. rex, look inside a volcano, explore the Roman Colosseum, hop aboard the International Space Station, and peek under the surface of a pond.
Created in association with the educational VR company Curiscope, this groundbreaking book from DK explains everything you need to know. Are you ready to be transported?
About the Author
---
Always frustrated by lack of clarity in books he read as a child, Jack Challoner long felt the need to make the amazing things that science and technology have achieved accessible to a wide audience. After studying physics in London, he trained as a science and math teacher. He then worked at London's Science Museum, in the education department and in their flagship interactive gallery, Launch Pad. Jack left the museum in 1991 to write science and technology books, and to write and perform science shows in museums, libraries, and schools. He's been doing all that ever since, with nearly forty books to his name. He also works as a consultant on other people's science books, and sometimes in television, helping to develop new ideas or work up existing ones. He is also a musician and singer, writing, producing and performing music. He lives in Bristol, England.

Curiscope is a UK-based augmented and virtual reality company. They aim to inspire curious kids to develop a love for science and explore the world around them in ways they never thought possible.