DKfindout! Stone Age (DK findout!) (Paperback)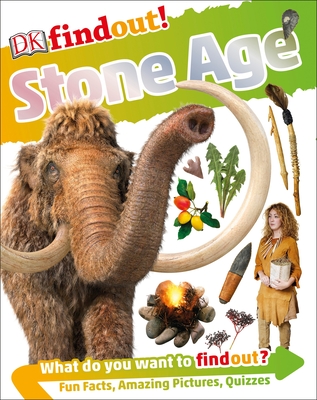 Description
---
This fun, fact-filled book for kids ages 6–9 is the ultimate guide to the Stone Age, during which humankind took its first steps. Entertaining and educating young readers through a combination of close-up images, quirky trivia facts, quiz questions, and fascinating tidbits, it's the perfect book for any kid who is curious about early human history.

How did people survive during the Stone Age? What innovative tool did they refer to as a "thunderstone"? How big could woolly mammoths grow? Find out the answers to these questions and more in DKfindout! Stone Age, which features photographs of ancient artifacts and relics, as well as illustrations and maps depicting how early humans hunted, communicated, and migrated across continents. Readers will learn about the three main periods of the Stone Age—the Paleolithic, Mesolithic, and Neolithic—and the key developments of each era, from the creation of stone tools and weapons to the start of modern agriculture. DKfindout! Stone Age illuminates this important stage in our species' past, providing kids with plenty of interesting details to pore over.

Vetted by educational consultants, the DKfindout! series drives kids ages 6–9 to become experts on more than 30 of their favorite STEM- and history-related subjects, whether Vikings, volcanoes, or robots. This series covers the subjects that kids really want to learn about—ones that have a direct impact on the world around them, like climate change, space exploration, and rapidly evolving technology—making learning fun through amazing images, stimulating quizzes, and cutting-edge information. The DKfindout! series is one that kids will want to turn to again and again.
About the Author
---
Author Klint Janulis is an archaeologist expert in prehistory and experimental survival techniques. His background includes experience as a former enlisted US Special Forces soldier, combat medic, and survival instructor with a background in palaeoanthropology. He is applying his experience to archaeology to better understand the mind, technology, and hunting practices of prehistoric humans.

Consultant James Dilley is an experimental archaeologist and specialist in European Prehistory at the University of Southampton.

Trusted by parents, teachers, librarians, and kids across the world, DK is an award-winning publisher of visual reference books for children, including the DK Eyewitness Books, DK findout!, and Maker Lab series. DK books combine clear photography and illustration with expert text to show you what others only tell you.
Praise For…
---
"High-interest topics, an abundance of eye-catching photos and visuals, and accessible text are a mainstay of DK titles, and the entries in this DK findout! series are no exception" –Booklist

"Photographs dominate the image-centric layout, augmented by informational bursts and sidebars, quizzes, and interviews… [A]n engaging, accessible format" –Publishers Weekly

"Filled with the beautiful photographs that DK is known for, plus a multitude of facts, prepare to not see your child for a few hours as they pore over these gorgeous books." –Brightly