Eyewitness Ancient Rome: Discover One of History's Greatest Civilizations—from its Vast Empire to the Blo (DK Eyewitness) (Paperback)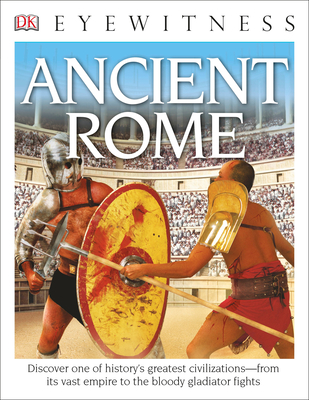 $9.99
Email or call for price.
Description
---
From Roman emperors and gods and goddesses to soldiers and gladiators, step into the exciting world of ancient Rome.

Who were Rome's most famous emperors? What was everyday life like for a soldier in the Roman army? How did the citizens of ancient Rome live? Did gladiators really fight to the death in the mighty Colosseum? Find out the answers to all these questions, and many more, in Eyewitness: Ancient Rome.

Photographs of real artifacts and detailed illustrations will help you to learn all about the time of ancient Rome, from a small city-state ruled by kings to one of the most powerful empires in history. Find out what a typical Roman house was like and what food Romans ate. Learn about how people spent their free time, whether paying a visit to the theatre, using the public bath, or watching gladiators fight a gruesome battle to the death in the world-famous Colosseum.

Packed with fascinating facts, this illustrated guide is perfect for school projects or as an introduction for anyone who wants to know more about the history of ancient Rome.
About the Author
---
Simon James is an author and archaeologist specializing in the Iron Age and Roman history. Educated at the University College London, James started his career as an archaeological illustrator. His research specialty lies in the study of ancient warfare, the Roman military, and the Partho-Sasanian military. James is also a very accomplished author, with more than ten titles to his name. He's known for Archaeology in Britain, Exploring the World of the Celts, Rome and the Sword, Eyewitness: Ancient Rome, and many more.