Mystery in the Frozen Lands (Paperback)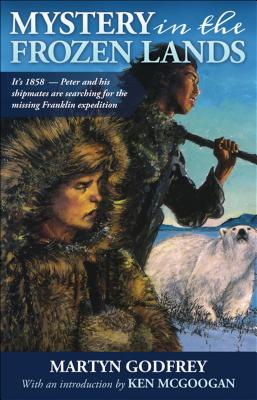 Email or call for price.
Not Available at This Time
Description
---
On July 2, 1857, 14-year-old Peter Griffin and twenty-five other men climbed aboard the refitted yacht, FOX, and set sail for the frozen lands of the Arctic sea. Their mission? To find out, once and for all, what had really happened to Sir John Franklin and his crew of 128 men.

Twelve years earlier, Sir John had sailed from England to complete the search for the Northwest passage through the Arctic Ocean to the Pacific. Mysteriously, Franklin and his whole expedition had disappeared without a trace.

And now Peter Griffin was going to the Arctic to help solve this mystery.

In his journal, Peter makes his Arctic adventures come to life--the long, dark days cooped up on board the ship, the dangers ever present in the forbidding, icy landscape, the sadness he and his companions experience as they come closer to realizing the ultimate end of Franklin and his men.

In Mystery in the Frozen Lands Martyn Godfrey has written an original and intriguing story. Drawing on historical writings, Godfrey tells a tale that is gripping, moving, and absolutely real.
About the Author
---
MARTYN GODFREY was one of Canada's most popular writers of fiction for young people. He wrote over forty books, including the Lorimer Sports Stories title Baseball Crazy and Plan B Is Total Panic, also published by Lorimer. KEN MCGOOGAN is the internationally published, award-winning author of eleven books and is well known for his biographical narratives centred on Arctic exploration. His books have won numerous literary awards, including the Writers' Trust of Canada Biography Prize, the Canadian Authors' Association History Award, the UBC Medal for Canadian Biography, and the Pierre Berton Award for Popular History.