Mumbo Jumbo, Stay Out of the Gumbo (Hardcover)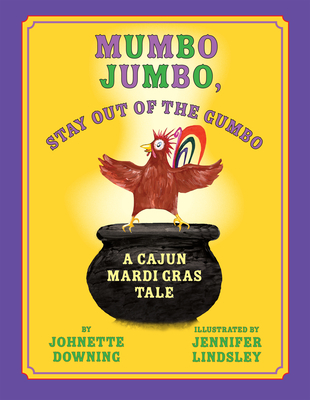 Email or call for price.
Not Available at This Time
Description
---
"In Lindsley's vigorously brushed rural scenes, the comically gesticulating red rooster often occupies the foreground as, behind, a multiracial procession of revelers in colorful festival costume goes from farm to farm begging for a handout."
--Kirkus
With her trademark lyricism, Louisiana musician and author Johnette Downing draws readers through an Acadian landscape. This brand-new tale introduces a cagey rooster who vows not to be in the communal gumbo pot this Courir de Mardi Gras. Downing provides a glossary of traditional French-Cajun words used in the story and a delicious recipe for gumbo z'herbes .
Award-winning musician and author Johnette Downing has performed on five continents. Her book Petit Pierre and the Floating Marsh represented the State of Louisiana in the Pavilion of States at the 2016 National Book Festival.
A relative of Dennis (Denus) McGee, the Cajun musician whose grave is a traditional stop on the Courir de Mardi Gras, Jennifer Lindsley works with all ages, introducing them to the pleasures of creativity.