Goodnight, Little Bot (Hardcover)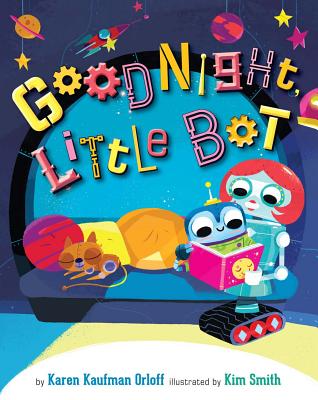 Description
---
"Little Bot, it's time for bed. Let's get ready, sleepyhead."
A sweet goodnight story with a unique hero.
Even little robots need their rest--and their parents tuck them in just like human mommies and daddies do. It doesn't matter if young bots slip on their pjs over power packs and enjoy batteries for their pre-sleep snack; just like children, they love bedtime stories, hugs, a cuddly toy, and lullabies. This charming picture book is perfect for winding kids (and robots) down for the night.
About the Author
---
Karen Kaufman Orloff is the author of several books for children, including the bestselling I Wanna series, illustrated by David Catrow (Putnam). For Sterling, she has written Talk, Oscar, Please!, illustrated by Tim Bowers; If Mom Had Three Arms, illustrated by Pete Whitehead; and Miles of Smiles, illustrated by Luciano Lozano. She has another book scheduled for Sterling's Spring 2018 list: Some Days. Karen lives in Dutchess County, NY. Visit her online at karenkaufmanorloff.com. Kim Smith has illustrated several books for children including Sterling's Hey, Coach!; Over the River & Through the Wood; and The Twelve Days of Christmas in Canada. Kim lives in Canada with her husband, Eric, and their border terrier, Whisky. Visit Kim online at Kimillustration.com.