Cap'n Rex & His Clever Crew (Hardcover)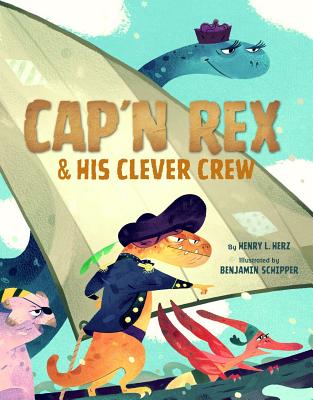 $16.95
Email or call for price.
Description
---
"With his emphasis on invention over brute force, Herz eloquently models positive attitudes for young readers. . . . The dinosaurs may be extinct but let's hope dinosaur pirates keep on sailing for arr-ternity." --Kirkus Reviews
Shiver me timbers It's the DINOSAUR PIRATES
Meet Captain Rex and his band of buccaneers. These dinosaur pirates sail the seven seas in search of buried treasure, but whenever they hit an obstacle--like a giant shark or pea-soup fog--the crew members are quick to say they can't overcome. To this, Captain Rex just glares with teeth bared and says, "CAN'T YE?" And, somehow, the crew always comes up with a clever solution.
A delightful story about using one's creativity and individual strengths to solve problems. It will encourage kids everywhere to think and say, "I can
About the Author
---
Henry Herz has an engineering BS from Cornell, an engineering MS from George Washington University, and an MA from Georgetown University, none of which helps him write children's books. Nevertheless, his love of fantasy and science fiction inspired him to write the picture books Monster Goose Nursery Rhymes, When You Give an Imp a Penny, Mabel and the Queen of Dreams and Little Red Cuttlefish. He lives in San Diego with his wife and two coauthor sons, and enjoys eating Boston Creme Pie. For more information, visit henryherz.com. Benjamin Schipper has created illustrations for Highlights for Kids, Knopf, Penguin Random House, Amplify, Chick-Fil-A, and Children's Theatre of Charlotte. He lives in Greenville, SC with his wife Karen and their little black dog Willow.