Here Comes Destructosaurus! (Hardcover)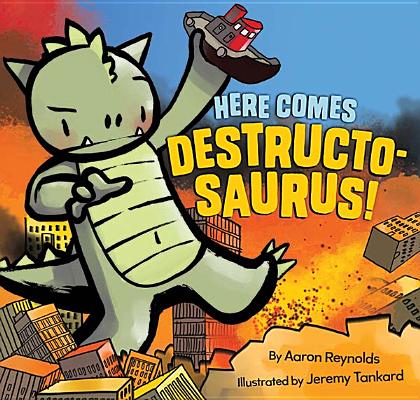 $16.99
Email or call for price.
Description
---
Watch the unstoppable destructive force of a raging temper tantrum! Tremble at the enormous mess and disrespectful roaring! Despair as no amount of scolding can stem the heedless fury! Someone is heading for a time-out, Mister! Anyone who has witnessed (or been) a toddler in the throes of a full-blown fit will delight in this clever book's moviemonster rampage, and may just come away from it with a bit more sympathy for toddler and caregiver.
About the Author
---
Aaron Reynolds works full time as a speaker/presenter and teacher. He has written many great books for kids, including Carnivores. He lives in Fox River, Illinois.

Jeremy Tankard is the author and illustrator of wonderful and silly books for children. He grew up in South Africa, the United States, and Canada. He currently resides in Vancouver, Canada.
Praise For…
---
"Primitive and volatile, dinosaurs are pretty much the ideal picture-book stand-in for a toddler's rampaging id. Aaron Reynolds makes the connection explicitly and hilariously in Here Comes Destructosaurus!"-The Wall Street Journal

"Primitive and volatile, dinosaurs are pretty much the ideal picture-book stand-in for a toddler's rampaging id. Aaron Reynolds makes the connection explicitly and hilariously in Here Comes Destructosaurus!"-The Wall Street Journal

"Primitive and volatile, dinosaurs are pretty much the ideal picture-book stand-in for a toddler's rampaging id. Aaron Reynolds makes the connection explicitly and hilariously in Here Comes Destructosaurus!"-The Wall Street Journal

"Will strike a chord with older preschoolers and their caregivers who are experienced with these tirades."--Booklist

"Will strike a chord with older preschoolers and their caregivers who are experienced with these tirades."--Booklist

"Will strike a chord with older preschoolers and their caregivers who are experienced with these tirades."--Booklist

"I actually laughed out loud when reading this, and I don't always do that. Awesome."--Elizabeth Bird, New York Public Library Collections Specialist

"I actually laughed out loud when reading this, and I don't always do that. Awesome."--Elizabeth Bird, New York Public Library Collections Specialist

"I actually laughed out loud when reading this, and I don't always do that. Awesome."--Elizabeth Bird, New York Public Library Collections Specialist

"Very funny mash-up of Dr. Spock and Godzilla."--Publishers Weekly Starred Review

"Very funny mash-up of Dr. Spock and Godzilla."--Publishers Weekly Starred Review

"Very funny mash-up of Dr. Spock and Godzilla."--Publishers Weekly Starred Review

"Translates a 'terrible twos'-style tantrum into a movie-monster rampage."-Kirkus Reviews

"Translates a 'terrible twos'-style tantrum into a movie-monster rampage."-Kirkus Reviews

"Translates a 'terrible twos'-style tantrum into a movie-monster rampage."-Kirkus Reviews

"This over-the-top tale that pushes the limits of the narrator's authority will delight readers."-School Library Journal

"This over-the-top tale that pushes the limits of the narrator's authority will delight readers."-School Library Journal

"This over-the-top tale that pushes the limits of the narrator's authority will delight readers."-School Library Journal

"Both toddlers and mothers can laugh at the inevitable behavior all kids and parents go through."--Kid Lit Reviews

"Both toddlers and mothers can laugh at the inevitable behavior all kids and parents go through."--Kid Lit Reviews

"Both toddlers and mothers can laugh at the inevitable behavior all kids and parents go through."--Kid Lit Reviews