Holy Terror (Paperback)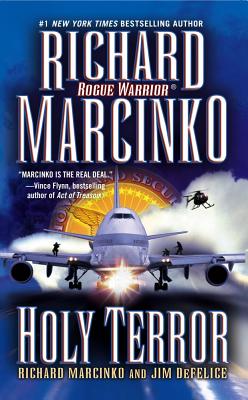 $24.99
In Our Warehouse - Expected arrival in 2-5 days
Description
---
From the #1 New York Times bestselling author Vince Flynn calls "the real deal," Richard Marcinko delivers a Rogue Warrior thriller that finds Demo Dick darkening the aisles of St. Peter's Basilica in Vatican City—tracking a group of terrorists who want to turn the world's largest Catholic church into the world's biggest Roman candle.

Nothing and no one is sacred when the Rogue Warrior smokes out a terrorist network with plans to turn the Vatican to ash. In Holy Terror, the former SEAL commander fires his first shots at a NATO conference in Rome, where he caps off his blistering anti-terror speech with a helpful visual aid—eliminating a "waiter" and playing volleyball with a live grenade.

As Demo Dick and his team trail terrorist kingpin Saladin, the manhunt pulls them into tracking stolen nukes in Sicily, facing down a predator in the jungles of Thailand, and flying on a prayer aboard a hijacked jet. Marcinko's mission is one final, explosive showdown with the bad guys—and there will be hell to pay.
About the Author
---
Richard Marcinko retired from the Navy as a full commander after more than thirty years of service. Her currently lives in the Alexandria, Virginia, area, where he is CEO of SOS Temps Inc., his private security firm whose clients are governments and corporations, and Richard Marcinko Inc., a motivational training and team-building company. He is also designing Crossroads Training and Development Center at Freedom, Indiana. He is the author of The Rogue Warrior®'s Strategy for Success: A Commando's Principles of Winning, and the four-month New York Times business bestseller Leadership Secrets of the Rogue Warrior: A Commando's Guide to Success. In addition to his bestselling autobiography, Rogue Warrior, he is coauthor with John Weisman of the New York Times bestselling novels Rogue Warrior: Red Cell, Rogue Warrior: Green Team, Rogue Warrior: Task Force Blue, Rogue Warrior: Designation Gold, Rogue Warrior: Seal Force Alpha, Rogue Warrior: Option Delta, and Rogue Warrior: Echo Platoon, all published by Pocket Books.
Praise For…
---
"Marcinko is the real deal." -- Vince Flynn, bestselling author of Act of Treason



"A gripping thriller." -- Booklist



"Marcinko...Makes Arnold Schwarzenegger look like Little Lord Fauntleroy." -- The New York Times Book Review