Nine, Ten: A September 11 Story (Hardcover)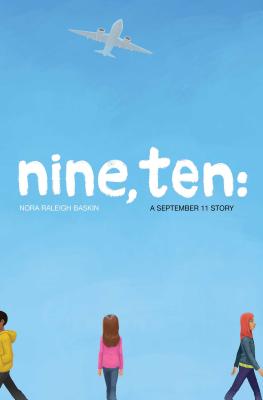 $17.99
Usually Ships in 1-5 Days
Staff Reviews
---
For those of us who lived through 9/11, it's hard to believe there is a new generation of Americans who have no recollection of the day the World Trade Center was destroyed and thousands of our friends and relatives lost their lives. Author Nora Raleigh Baskin has written an unforgettable book, Nine, Ten, for these young readers. Nine, Ten begins two days before 9/11, and it tells the stories of four children whose lives will, like so many others, be touched by the events on that fateful day. Sergio is an 11 year old African American boy who lives with his grandmother in Brooklyn; Nadira is a young Muslim girl from Columbus, Ohio; Aimee recently moved from New York to Los Angeles when her mother took a new position at Cantor Fitzgerald; and Will lives with his widowed mom and two sisters in Shanksville, Pennsylvania. Their stories create a window through which young readers can be introduced not only to the events, but also to the way these events impacted the every day lives of Americans. This is a book that should be read and discussed by every middle grade class and by every family. Ages 8 to 12.
— From
Staff Reviews
Description
---
From the critically acclaimed author of Anything But Typical comes a touching look at the days leading up to the tragic events of September 11, 2001, and how that day impacted the lives of four middle schoolers.

Ask anyone: September 11, 2001, was serene and lovely, a perfect day—until a plane struck the World Trade Center.

But right now it is a few days earlier, and four kids in different parts of the country are going about their lives. Sergio, who lives in Brooklyn, is struggling to come to terms with the absentee father he hates and the grandmother he loves. Will's father is gone, too, killed in a car accident that has left the family reeling. Naheed has never before felt uncomfortable about being Muslim, but at her new school she's getting funny looks because of the head scarf she wears. Aimee is starting a new school in a new city and missing her mom, who has to fly to New York on business.

These four don't know one another, but their lives are about to intersect in ways they never could have imagined. Award-winning author Nora Raleigh Baskin weaves together their stories into an unforgettable novel about that seemingly perfect September day—the day our world changed forever.
About the Author
---
Nora Raleigh Baskin is the ALA Schneider Family Book Award–winning author of Anything But Typical. She was chosen as a Publishers Weekly Flying Start for her novel What Every Girl (Except Me) Knows, and has since written a number of novels for middle graders and teens, including The Truth About My Bat Mitzvah, The Summer Before Boys, and Ruby on the Outside. Nora lives with her family in Connecticut. Visit her at NoraBaskin.com.
Praise For…
---
* "Readers will have different reactions to the work depending on their ages and how much prior knowledge they bring to it. . . children may gain a small sense of the magnitude of the changes that day wrought on our world. Tense, disturbing, and thought-provoking."
— Kirkus Reviews, starred review

* "A powerful account of how the events changed lives. . . . There are no graphic displays of violence; Baskin focuses on how her characters emerge wiser, worldlier, and more sensitive to others' pain after surviving a profound and tragic piece of history."
— Publishers Weekly, starred review

"Baskin's novel reminds readers that our lives are interconnected in ways we might never understand; by focusing on four young characters, she underscores the effects September 11 had on those involved and those bearing witness . . . a gentle introduction to a difficult topic for young readers, many of whom will be too young to remember the events firsthand."
— Booklist

"Baskin creates sharply defined, emotionally compelling characters in a few elegant words . . . Daringly, Baskin saves the events of 9/11 for the last act, effectively ending her book with its inciting event. . . . Though some might wonder if a calm and bloodless novel about 9/11 misses the point, its poise allows Nine, Ten to honor the emotional distance many kids today feel from the tragedy."
— The New York Times Book Review