Greek Mythology (Ken Jennings' Junior Genius Guides) (Paperback)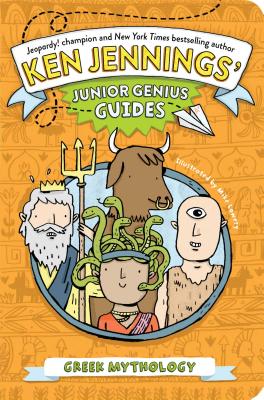 Description
---
Unleash your inner genius and become a master of mythology with this interactive trivia book from Jeopardy! champ and New York Times bestselling author Ken Jennings.

With this Junior Genius Guide to Greek mythology, you'll become an expert and wow your friends and teachers with all the best ancient stories: how Prometheus outsmarted the gods, how Achilles's heel led to his death, and how we mere mortals always seem to get mixed up in so many misadventures. With great illustrations, cool trivia, and fun quizzes to test your knowledge, this guide will have you on your way to whiz-kid status in no time!
About the Author
---
Ken Jennings is the New York Times bestselling author of Brainiac, Maphead, Because I Said So!, and Planet Funny. In 2020, he won the "Greatest of All Time" title on the quiz show Jeopardy! and in 2022, he succeeded Alex Trebek as a host of the show. He is living in Seattle during his mortal sojourn, but his posthumous whereabouts are still to be determined.

Mike Lowery is an illustrator and fine artist whose work has been seen in galleries and publications internationally. Mike is the illustrator of Moo Hoo and Ribbit Rabbit by Candace Ryan; The Gingerbread Man Loose in the School by Laura Murray; and the Doctor Proctor's Fart Powder novels by Jo Nesbø. Currently he is a professor of illustration at the Savannah College of Art and Design in Atlanta, Georgia, where he lives with a lovely German frau, Katrin, and his super genius daughter, Allister. Visit him at MikeLowery.com.