Yes I Can!: A Girl and Her Wheelchair (Hardcover)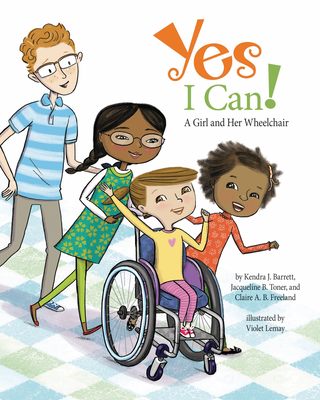 $16.99
Email or call for price.
Description
---
Carolyn is in a wheelchair, but she doesn't let that stop her She can do almost everything the other kids can, even if sometimes she has to do it a little differently.
Includes a Note to Parents, Caregivers, and Teachers with more information on discussing disabilities with children and helping them to build positive, empathic relationships.
About the Author
---
Kendra J. Barrett, DPT, is a pediatric physical therapist who has worked in early intervention and public schools for eight years. She currently works in a public school for students age 3-21 with intellectual and physical disabilities. Yes I Can! is her first book. She lives in Maryland. Jacqueline B. Toner, PhD, is the co-author of several self-help books. She has been in private practice working with children, teens, and families for over thirty years. Dr. Toner earned her PhD from the University of Virginia and completed two post-doctoral programs (in pediatric psychology and adolescent medicine) at the University of Maryland Medical School. Dr. Toner also serves as lead facilitator and consultant on a project on medical ethics led by Johns Hopkins Hospital and the University of Pittsburgh Medical Center. She is the mother of three grown children and lives with her husband in Baltimore. Claire A. B. Freeland, PhD, is a clinical psychologist in private practice, working for more than thirty-five years with youth and their families. Interested in bringing the general principles of cognitive-behavioral therapy to families everywhere, she is the co-author of What to Do When It's Not Fair, What to Do When Mistakes Make You Quake, and What to Do When You Feel Too Shy. She lives with her husband in Baltimore. They have two grown children. Visit Dr. Freeland at www.clairefreelandphd.com Violet Lemay sampled many creative careers before arriving at her dream job: illustrating books for kids Violet has illustrated over twenty books, including Yes I Can!., a handful of which she also wrote. She lives in New York. Visit her at www.violetlemay.com and follow her on Facebook: @violet.lemay and Twitter: @violetlemay