On Tyranny: Twenty Lessons from the Twentieth Century (Large Print / Library Binding)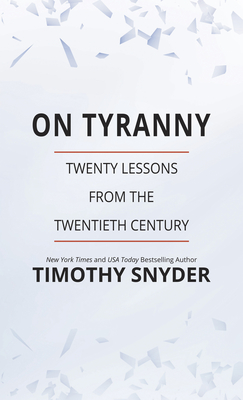 $39.59
Email or call for price.
Description
---
#1 New York Times Bestseller - A historian of fascism offers a guide for surviving and resisting America's turn towards authoritarianism.

The Founding Fathers tried to protect us from the threat they knew, the tyranny that overcame ancient democracy. Today, our political order faces new threats, not unlike the totalitarianism of the twentieth century. We are no wiser than the Europeans who saw democracy yield to fascism, Nazism, or communism. Our one advantage is that we might learn from their experience. On Tyranny is a call to arms and a guide to resistance, with invaluable ideas for how we can preserve our freedoms in the uncertain years to come. Mr. Snyder is a rising public intellectual unafraid to make bold connections between past and present. --The New York Times
About the Author
---
Timothy Snyder is the Levin Professor of History at Yale University. He is the author of Bloodlands: Europe Between Hitler and Stalin and Black Earth: The Holocaust as History and Warning. Snyder is a member of the Committee on Conscience of the United States Holocaust Memorial Museum and a permanent fellow of the Institute for Human Sciences in Vienna.