The Bishop's Pawn: A Novel (Cotton Malone #13) (CD-Audio)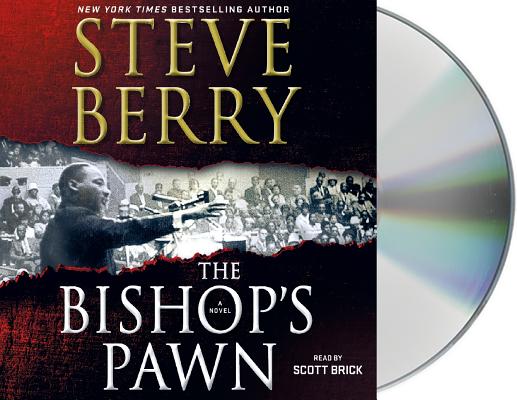 Email or call for price.
Not Available at This Time
Other Books in Series
This is book number 13 in the Cotton Malone series.
Description
---
In this audiobook, Steve Berry and Macmillan Audio team up again to bring listeners an expanded, annotated Writer's Cut edition of The Bishop's Pawn. This Writer's Cut edition features fascinating behind-the-scenes commentary read by the author. Critically-acclaimed and award-winning narrator Scott Brick returns to tell the thrilling first case of Cotton Malone — eponymous hero of Berry's iconic New York Times bestselling series.
History recalls that the ugly feud between J. Edgar Hoover and Martin Luther King, Jr. — marked by years of illegal surveillance and the accumulation of secret files — ended on April 4, 1968, when King was assassinated by James Earl Ray. But that may not have been the case.
Now, fifty years later, former Justice Department agent, Cotton Malone, must reckon with the truth of what really happened that fateful day in Memphis.
It all turns on an incident from eighteen years ago, when Malone, as a young Navy lawyer, was trying hard not to live up to his burgeoning reputation as a maverick. When Stephanie Nelle, a high-level Justice Department lawyer, enlists him to help with an investigation, he jumps at the opportunity. But he soon discovers that two opposing forces, the Justice Department and the FBI, are at war over a rare coin and a cadre of secret files containing explosive revelations about the King assassination — information that could ruin innocent lives and threaten the legacy of the civil rights movement's greatest martyr.
Malone's decision to see it through to the end — from the raucous bars of Mexico, to the clear waters of the Dry Tortugas, and ultimately into the halls of power within Washington D.C. itself — not only changes his own life, but the course of history.
Steve Berry always mines the lost riches of history; in The Bishop's Pawn he imagines a gripping, provocative thriller about an American icon.
Praise for Scott Brick as Cotton Malone:
"Scott Brick continues to bolster his status as one of the best narrators of international thrillers with his excellent reading of Berry's latest...Brick easily negotiates his way through this complex plot, his confident delivery keeps the suspense high while bringing a solid reality to a story that often walks a fine line between the believable and the improbable." — Publishers Weekly on The Venetian Betrayal
"Narrator Scott Brick's smooth voice flows with the twists and turns of Berry's political thriller...Secrets unravel, and tensions rise as Brick shifts vocal focus from the historical secret society to contemporary conspirators who include corrupt politicians and judges." — AudioFile Magazine on The Lost Order
About the Author
---
STEVE BERRY is the
New York Times
and #1 internationally bestselling author of fifteen Cotton Malone novels, four stand alones, and several works of short fiction. He has 25 million books in print, translated into 40 languages. With his wife, Elizabeth, he is the founder of History Matters, which is dedicated to historical preservation. He serves as an emeritus member of the Smithsonian Libraries Advisory Board and was a founding member of International Thriller Writers, formerly serving as its co-president.
Scott Brick first began narrating audiobooks in 2000, and after recording almost 400 titles in five years, AudioFile magazine named Brick a Golden Voice and "one of the fastest-rising stars in the audiobook galaxy." He has read a number of titles in Frank Herbert's bestselling Dune series, and he won the 2003 Science Fiction Audie Award for Dune: The Butlerian Jihad. Brick has narrated for many popular authors, including Michael Pollan, Joseph Finder, Tom Clancy, and Ayn Rand. He has also won over 40 AudioFile Earphones Awards and the AudioFile award for Best Voice in Mystery and Suspense 2011. In 2007, Brick was named Publishers Weekly's Narrator of the Year.
 Brick has performed on film, television and radio. He appeared on stage throughout the United States in productions of Cyrano, Hamlet, Macbeth and other plays. In addition to his acting work, Brick choreographs fight sequences, and was a combatant in films including Romeo and Juliet, The Fantasticks and Robin Hood: Men in Tights. He has also been hired by Morgan Freeman to write the screenplay adaptation of Arthur C. Clarke's Rendezvous with Rama.
Praise For…
---
Best of 2018 - Inside Jersey
"The Bishop's Pawn skillfully blends a fictional, alternate history interpretation of King's life with masterful storytelling and knife-edge suspense, brought to life with the consummate performance of narrator Scott Brick. A special bonus "writer's cut" read by author Steve Berry further enhances this engaging audiobook, highly recommended for both personal and public library collections." -Midwest Book Review