The 14th Colony: A Novel (Cotton Malone #11) (CD-Audio)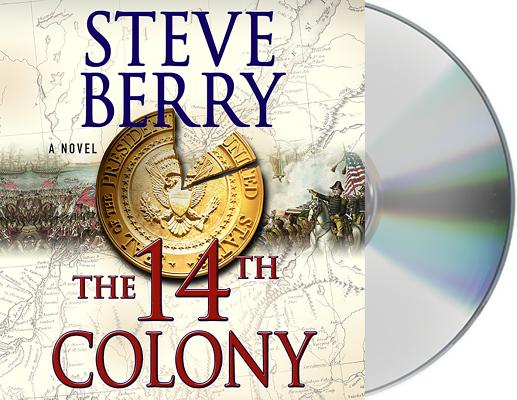 Email or call for price.
Not Available at This Time
Other Books in Series
This is book number 11 in the Cotton Malone series.
Description
---
What happens if both the president and vice-president-elect die before taking the oath of office? The answer is far from certain—in fact, what follows would be nothing short of total political chaos.
Shot down over Siberia, ex-Justice Department agent Cotton Malone is forced into a fight for survival against Aleksandr Zorin, a man whose loyalty to the former Soviet Union has festered for decades into an intense hatred of the United States.
Before escaping, Malone learns that Zorin and another ex-KGB officer, this one a sleeper still embedded in the West, are headed overseas to Washington D.C. Noon on January 20th—Inauguration Day—is only hours away. A flaw in the Constitution, and an even more flawed presidential succession act, have opened the door to disaster and Zorin intends to exploit both weaknesses to their fullest.
Armed with a weapon leftover from the Cold War, one long thought to be just a myth, Zorin plans to attack. He's aided by a shocking secret hidden in the archives of America's oldest fraternal organization—the Society of Cincinnati—a group that once lent out its military savvy to presidents, including helping to formulate three invasion plans of what was intended to be America's 14th colony—Canada.
In a race against the clock that starts in the frozen extremes of Russia and ultimately ends at the White House itself, Malone must not only battle Zorin, he must also confront a crippling fear that he's long denied, but which now jeopardizes everything. Steve Berry's trademark mix of history and speculation is all here in this provocative new thriller.
About the Author
---
STEVE BERRY is the
New York Times
and #1 internationally bestselling author of fifteen Cotton Malone novels, four stand alones, and several works of short fiction. He has 25 million books in print, translated into 40 languages. With his wife, Elizabeth, he is the founder of History Matters, which is dedicated to historical preservation. He serves as an emeritus member of the Smithsonian Libraries Advisory Board and was a founding member of International Thriller Writers, formerly serving as its co-president.
Scott Brick first began narrating audiobooks in 2000, and after recording almost 400 titles in five years, AudioFile magazine named Brick a Golden Voice and "one of the fastest-rising stars in the audiobook galaxy." He has read a number of titles in Frank Herbert's bestselling Dune series, and he won the 2003 Science Fiction Audie Award for Dune: The Butlerian Jihad. Brick has narrated for many popular authors, including Michael Pollan, Joseph Finder, Tom Clancy, and Ayn Rand. He has also won over 40 AudioFile Earphones Awards and the AudioFile award for Best Voice in Mystery and Suspense 2011. In 2007, Brick was named Publishers Weekly's Narrator of the Year.
 Brick has performed on film, television and radio. He appeared on stage throughout the United States in productions of Cyrano, Hamlet, Macbeth and other plays. In addition to his acting work, Brick choreographs fight sequences, and was a combatant in films including Romeo and Juliet, The Fantasticks and Robin Hood: Men in Tights. He has also been hired by Morgan Freeman to write the screenplay adaptation of Arthur C. Clarke's Rendezvous with Rama.
Praise For…
---
"Brick sets a page-turning pace by intensifying the drama and the danger and underlining the nail-biting suspense in this thriller filled with conspiracies and intriguing historical information. Listeners should prepare to sit back and enjoy Brick's riveting and immensely entertaining
performance."--Booklist
"Berry raises this genre's stakes."—The New York Times
"I love this guy."—Lee Child
"One of Berry's best books to date."—Associated Press on The Patriot Threat
"My kind of thriller." — Dan Brown on The Amber Room
"Steve Berry is a master at weaving together historical details with fiction to create a spellbinding thriller…The Patriot Threat is suspenseful, entertaining and thought provoking. As usual, Berry's writing is smooth, the plot well thought out, and the characters realistic. Another winner from Steve Berry."—Examiner.com
"As always with Steve Berry, you're educated about significant things while your knuckles are turning white and the pages are flying by."—David Baldacci
"Every American should read [The Lincoln Myth]."—Florida Times Union
"Steve Berry's sizzling, scintillating and aptly titled The Patriot Threat…provides an extraordinarily well researched, prescient and beautifully structured tale that whisks us off across the globe and through history in search of an elusive truth dating to FDR. [Berry] remains a master of form and function, a stylist as well as a storyteller...Blistering reading entertainment at its level best."—Providence Journal
"The 10th installment in Mr. Berry's Cotton Malone series, The Patriot Threat is a fast-paced and entertaining traditional thriller along the lines of The Da Vinci Code. It's loaded with action, character sketches, fascinating history and Mr. Berry's liberal use of poetic license."—Pittsburgh Post-Gazette
"Another page-turning thriller blending history, speculation and face-paced action."—Kirkus Reviews on The Patriot Threat