National Geographic Readers: Reptiles (L1/Co-reader) (Library Binding)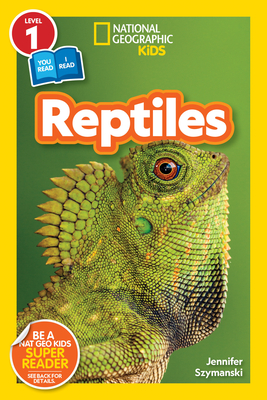 $16.39

In Our Warehouse - Expected arrival in 2-5 days
Description
---
Slither, glide, creep, and crawl into the amazing world of reptiles! Meet lizards, alligators, turtles, snakes, and more in this engaging Co-reader.

Packed with incredible photos of a wide variety of reptile species, this Co-reader dives into many of the things that make these scaly animals so unique. Young readers will learn about scales and scutes, why reptiles shed their skin, clever ways that reptiles stay safe, and more!
These key features make National Geographic Co-Readers a winner with kids, parents, and educators:
Expert-vetted text appropriate for ages 4 to 6 (preschool to first grade)
Each spread has one page of adult read-aloud text and one page of kid read-aloud text
Brilliant and eye-catching National Geographic images
High-interest topic
A fun and collaborative approach to reading
Accessible, yet wide-ranging information for kids ready to read with an adult or older reader—perfect to encourage the scientists and explorers of tomorrow!
About the series: This high-interest, educationally-vetted readers series features magnificent National Geographic images, accompanied by text written by experienced, skilled children's book authors. Each reader includes interactive features in which kids get to use what they've learned in the book. Level 1 readers reinforce the content of the book with a kinesthetic learning activity. Level 2 readers feature slightly higher-level text and additional vocabulary words. Level 3 readers have more layers of information to challenge more proficient readers. For emerging readers, the Pre-reader level introduces vocabulary and concepts, and the Co-reader level provides a collaborative reading experience.
Praise for National Geographic Readers:
"Reliable in format and solid in execution, this series works well to introduce children of varying levels of reading comfort to nonfiction and research formats."
—Maggie Reagan,
Booklist
Complete your collection with these popular National Geographic Co-readers:
National Geographic Reader: In the Ocean
National Geographic Reader: Glowing Animals
National Geographic Reader: Real Dragons!
National Geographic Reader: Cats
About the Author
---
JENNIFER SZYMANSKI is a freelance science writer and editor. Szymanski specializes in writing materials that support both teachers and students in meeting national and state science standards, but she considers her "real" job to be helping students connect science to everyday life. She has taught students from pre-K to college, spent time as a veterinary technician, and is an all-around cheerleader for STEM education. She is the author of more than a dozen National Geographic Readers and Nat Geo Kids nonfiction titles.